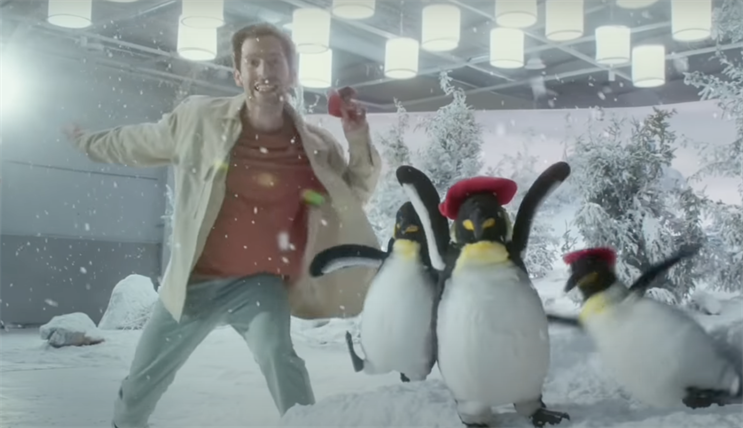 Dancing penguins, a polar bear that inexplicably seems to morph into a grizzly bear and a catchy, singalong musical-style tune herald Samsung's manifesto film "I'm open to that". 
The new brand philosophy – namely that "Life opens up with Galaxy" – is communicated joyfully in this new spot by Wieden & Kennedy Amsterdam that premiered at the Samsung Unpacked event earlier this month. 
Mark Bernath, executive creative director, Wieden+Kennedy Amsterdam, said: "The assignment was to come up with a film to launch the new brand philosophy 'Life Opens Up With Galaxy' at the Unpacked event, so we figured a theatrical song and dance akin to the opening of the Oscars might work.
"We were sitting at lunch and the first thought was to open the film with something that would make the audience agree to be open to whatever happens or not. Essentially to experience the concept in real time as they watch it and see how being open to things is clearly the way to be.
"For some reason the notion of a person unzipping themselves from inside a realistic bear struck us as the perfect way to kick it off and see if the audience is up for it. From there, anything could happen. And did. We had good fun rounding out the script with our directors, who did a phenomenal job lacing the spot with their unique touch and ingenious transitions."
The ad, directed by Gustavo Moraes and Marco Laver through Iconoclast, comes as the South Korean phone giant unveiled its latest generation of folding phones – the flexible-screened Galaxy Z Fold3 and Z Flip3. 
In a shake-up for its smartphone portfolio, the company has reduced its starting prices to make the foldable devices more accessible, with corporate vice-president for the UK and Ireland Conor Pierce stating the aim was to take the devices mainstream for the first time. 
Samsung introduced its first foldable in 2019, adding another in 2020, but both ranges had been regarded as ultra-premium.