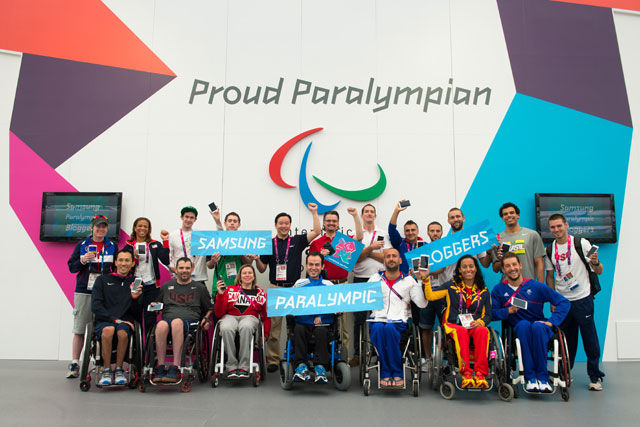 The electronics and IT company has invited 50 Paralympic athletes from 18 countries, representing 16 sports, to share their experiences of the Games by creating blogs and videos, using an app on the Samsung Galaxy Note tablet.
Samsung is the worldwide Olympic partner in the wireless communications category.
The content will be uploaded to Samsung's Olympics digital hub and across all International Paralympics Committee and Locog social media platforms.
At the time of writing the line-up on Samsung's digital hub includes Team GB swimmer James O'Shea and wheelchair basketball player Jon Pollock.
However, neither will blog during the Games due to LOCOG rules restricting Team GB athletes from blogging according to a Samsung spokesman.
A spokesman for LOCOG said it was "not strictly right that none of Team GB can blog during the Games" for a sponsor but rules do prevent athletes from all countries from writing certain things related to competing.
Other athletes who will be blogging for Samsung during the Paralympics include sprinter Jason Smyth and Spanish cyclist Raquel Acinas.
The activity follows on from a campaign Samsung launched in April to find 100 bloggers from around the world to cover the Olympics, using its products.
The blogging campaign forms part of Samsung's wider 'Sport Doesn't Care Who You Are – Everyone Can Take Part' activity, which aims to encourage the public to rethink its attitudes towards Paralympic athletes. Samsung has rolled out an online film for this campaign, exploring the relationship between the athletes and their coaches.
It has also launched the first in a series of press ads that will run throughout the Paralympics.
The ads, created by Cheil, show Team Samsung ambassadors who participated in the Olympic Games, showing their support for Pollock and sprinter Sally Brown. The ads will chart the progress of the athletes throughout the games.
Sir Philip Craven, president of the International Paralympic Committee said: "We are delighted that brands like Samsung are putting the spotlight on Paralympic athletes and this highlights their hard work and commitment, shared with all athletes around the world."
Sunny Hwang, vice-president and head of global sports marketing at Samsung Electronics, said: "Samsung has a long history of encouraging integration and equality in sport and the London 2012 Paralympic Games is no exception."
Samsung is set to unveil the latest version of its Galaxy Note handset at the IFA Electronics Show in Berlin later today, shortly after it lost its court battle with Apple over patent violation infringement.