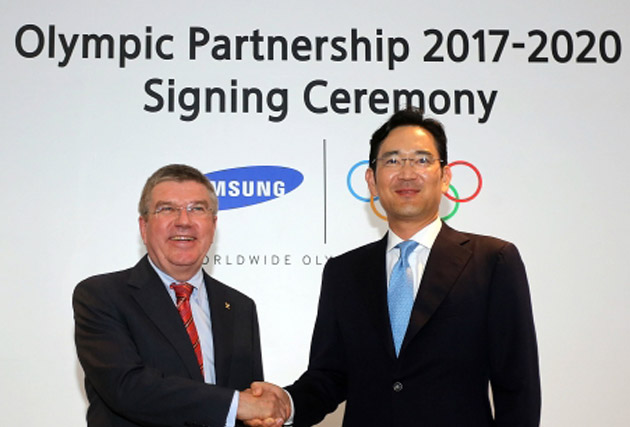 The agreement with the International Olympics Committee (IOC) means that Samsung's partnership will now encompass the wireless communications equipment and computing equipment product category, having previously just covered wireless communications equipment.
The expanded product category covers smartphones, tablets, laptops, PCs and other computing equipment including printers.
A signing ceremony took place on 17 August in Nanjing in China, the city which is hosting the second Summer Youth Olympic Games.
The deal will mean the electronics giant extends its sponsorship beyond the 2016 Games in Rio de Janeiro, and becomes the sponsor for the Pyeongchang 2018 Olympic Winter Games in South Korea and the Tokyo 2020 Olympic Games.
Younghee Lee, Samsung Electronics' executive vice-president of global marketing, IT and mobile, said: "Samsung aims to spread the Olympic spirit through our innovative products, enabling all fans around the world to stay connected and share the excitement of the Olympic Movement.
"We are proud to extend our involvement, as it is meaningful to us to inspire people through the passion that lies behind the Games and contribute to creating a smarter Olympic Games."
Thomas Bach, president of the IOC, said: "The funding generated by the [Olympic Partner Programme] directly supports the staging of every Olympic Games, as well as every one of the National Olympic Committees, enabling athletes from all over the world to prepare for and compete at each Games.
"Samsung also supports the operations of each Games by providing leading wireless telecommunications and technology equipment. In addition, Samsung's technologies and global marketing reach will engage fans around the world with the Olympic values and the Olympic Movement."
Samsung's association with the Olympics stared in 1988, when the South Korean company was a local sponsor of the Seoul Games.