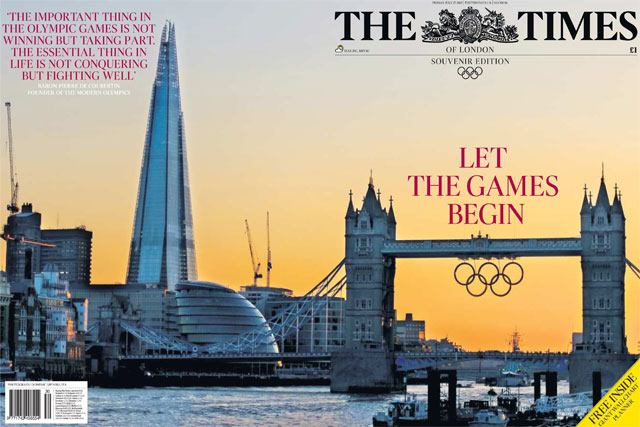 The Times has been running a commemorative London 2012 cover wrap since the start of the Games and plans to run it until the end of the Olympics.
It has been sponsored by Samsung so far but the deal will not extend beyond this weekend.
Media agency sources have told Media Week that commercial executives at News International, parent company of The Times, were keen to sell Samsung the cover wrap sponsorship for the entire duration of the Olympics.
But they were unable to strike a deal, forcing News International to look elsewhere for a commercial partner, despite expectations that the title would perform well during the Olympics.
Sources said News International has been unable to find an exclusive single sponsor for the remaining days of Olympic competition.
Once source close to News International said the publisher had secured individual sponsors on different days. It is unclear who these sponsors are.
News International said "All wraps throughout the Olymics have been sold and you can look forward to them being revealed next week."
Newspapers are looking to pump up their commercial revenues during the Olympics.
Adidas, the official sportswear partner of London 2012, is cover wrapping the Metro newspaper for 17 consecutive days during the Olympics, its biggest-ever print campaign.
The £2m deal will see 17 collectable covers featuring Team GB athletes, which have been designed by illustrators and artists.
On the first Saturday of the Olympics, The Times easily outperformed its rivals, adding 100,000 to its average Saturday circulation of 480,132.
Samsung was unavailable for comment.
Follow @johnreynolds10