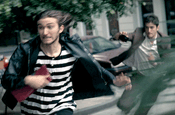 The electronics giant has contacted a number of undisclosed digital agencies via its Korean headquarters with a view to holding a pitch for the business.

Although the full extent of the pitch is not yet known, it is thought that the brief is initially focused on web design, although agencies may also be briefed to produce online ad campaigns in the future.

Samsung has recently launched the Omnia, its competitor to Apple's iPhone, which will be available in the UK via Orange.

The phone's launch was supported by a £4 million outdoor, online and press campaign.

The handset review follows a pitch for the digital advertising for Samsung's printers, monitors and flashdrive products earlier this year.

Digitas, the Publicis Groupe-owned digital agency, which handles digital advertising for Samsung through its New York office, secured the business, ?following a shoot-out against the WPP-owned incumbent, Wunderman.