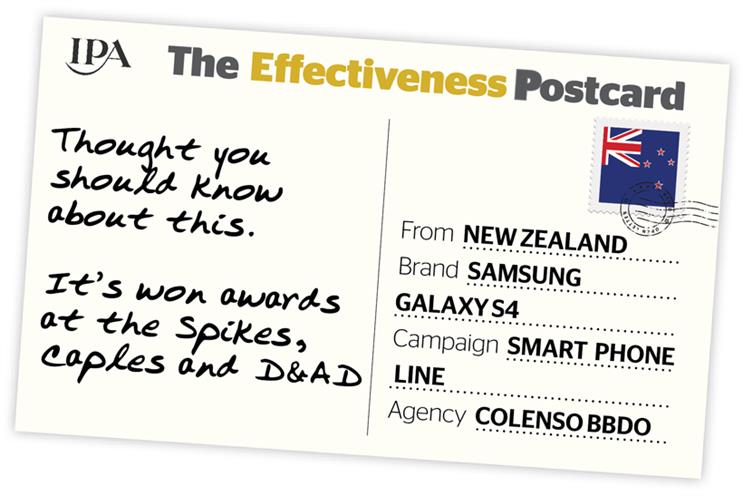 Why should you care about it?
In most effectiveness campaigns, awareness data plays the same role as messenger envoys in military campaigns – valued less for themselves than as a warning that greater firepower is to follow.
If these 'big guns' – typically proof that marketing changed behaviour or grew profits – fail to materialise, the fate of awareness data, like that of a wartime envoy, depends on audience goodwill.
What to do, then, about pre-launch communications, created primarily to make products visible, salient and talked-about before they are even on sale?
How can we judge fairly the effect­iveness of work designed for that brief window before launch communications kick in, making it harder to isolate the contributions to sales of pre- and post-launch messaging?
Samsung's 'Smart Phone Line' is just such an example, notable for its use of a playful mechanic to encourage C2C awareness-building for a handset launch.
In both the quantity and quality of awareness triggered, it makes its case that awareness can be both a necessary and sufficient measure of effectiveness – without relying on reader goodwill.
What did the brand do?
In an oblique comment on the overnight on-street queues that greeted launches from its rival, Apple, Samsung invited brand fans on Facebook or Twitter to join a virtual queue to obtain a pre-release Galaxy S4 handset.
Each queue-joiner was given an avatar and uploaded a picture of themselves in the digital queue. For two weeks before the launch, queue members received daily content about the S4 to share on social media.
The more a person's S4 posts were liked, shared, reposted or com­mented on, the more that individual advanced toward the front of the line.
The queue was also represented live on a 50ft LED billboard in the centre of Auckland. The avatars reacted to changes in conditions, and real-time posts appeared as their speech bubbles.
Did it work?
12,000 joined the digital queue.
85,000 stories were shared to 3m news feeds.
135 media stories mentioned the campaign (up 165% over previous brand launches).
PR with an advertising equivalent value of NZ$2.8m was generated.

What else do we want to know?
The claim that Samsung's value share of New Zealand's premium smart­phone market rose by 15 percentage points following the launch, according to company data, would normally be catnip to the IPA.
But there was also substantial S4 launch advertising, and separating the impact of these activities was deemed impractical by the campaign team.
This type of challenge has featured before in the IPA Effectiveness Awards. In 2004 Volkswagen pre-sold the revamped Golf GTI Mk5 before the model was in dealerships.
Working with agency DDB, VW created an online configurator enabling consum­ers to tailor and order a GTI Mk5. Pre-release media spend focused on driving VW fans to this website using PR and digital.
After launch, the site users' details were compared with dealerships' sales records to estimate the percentage of people who had both configured a Mk5 online and bought one in the first six months.
The overlap was at least 16% and possibly as high as 40%. (The case paper is available from ipa.co.uk.)
For its part, Samsung did use its queue-entrants' details to help operators target people who had shown an interest in the S4 with offers, but it hasn't released data on the benefit of this activity.
In a country of New Zealand's size, the volume of earned media won in a short time, and the fact that 70% of site traffic was from referrers, are impressive. For some, these may be justification enough.
In the absence of a quantified link to sales, we would want to see positive shifts in brand tracking before and after the pre-release as a result of increased awareness, or in purchase intent among consumers exposed to the 'Line' idea compared with those not exposed.
To see this case do itself justice in the 2016 IPA Effectiveness Awards, we want more. And we're ready to wait in line for it.
Learnings unpacked
Translate real behaviour into social and 'gamify' it.

Reward early adopters for drawing in mainstream buyers.

Build evaluation into a pre-release campaign

Link social and outdoor to increase visibility.
By Carlos Grande (carlos@ipa.co.uk), IPA effectiveness editor, formerly of the Financial Times and Warc.