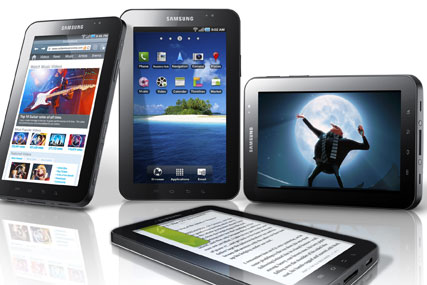 The new device was unveiled at the IFA consumer electronics show in Berlin, amid rumours that it could go on sale for half the price of the iPad. Apple sells the iPad starting at £429. Data plans are sold separately by mobile companies, including O2.
The Galaxy Tab has a seven-inch screen, making it smaller than the iPad. It runs on Google's Android operating system, for which there are thousands of apps available, and can be used either with a wifi connection or on 3G, as long as the user has access to some sort of data plan.
Unlike the iPad, Samsung's device is able to load web pages built using Flash. It also has a camera on the front and back, a feature not included on current models of iPad.
Moreover, users can continuously communicate via e-mail, voice and video call, SMS/MMS or social network with the optimised user interface.
Reports say that it could go on sale for as little as £200, although the company has not confirmed the pricing or the exact launch date.
Samsung is one of a number of tech companies that is launching into the tablet computing market. Home telephone maker Binatone revealed its model this week, which does not have 3G capability. BlackBerry and Lenovo are also set to unveil their tablet devices soon.
Samsung's Galaxy S smartphone has been a hit with consumers and reviewers. It has been promoted in a wide-ranging ad campaign, including television, outdoor and online.

A couple of print ads for the handset took a potshot at Apple's iPhone 4, because of the supposed problems with the antenna and reception for phone calls.