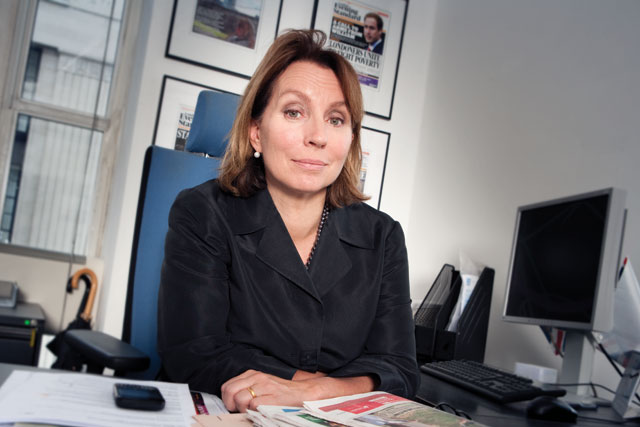 The London Evening Standard's renaissance is one of the more remarkable media stories of recent years. And now the title is entering one of the more interesting chapters in its whole history, with a new editor, Sarah Sands, settling in just in time for the opening ceremony of the biggest UK sporting event in living memory to happen on its doorstep.
Sands, who was appointed at the tail end of March but who has only just got her feet under the editor's desk, is, understandably, in a rather buoyant mood.
"There's an incredible sense of optimism around currently and the energy that comes from being at the centre of the world," she says. "Editorially, we're privileged to reflect that. Everything happens first in London - and the Evening Standard is synonymous with London. We have a whole summer of pageantry - don't forget we have the Jubilee before the Olympics - in London. It's all happening right here in front of us."
Indeed it is - and, just as with the royal wedding last year, it's possible to imagine even the most inveterate of cynics being swept up in it all. The thing that cynics might find even more improbable, however, is the notion that the Standard is still here to cover it all. When the Lebedevs bought the title for £1 from Associated Newspapers in January 2009, few gave it much of a prayer.
In its heyday, the Standard, thanks in no small part to the fact that it was the UK afternoon paper with the best Westminster relationships, produced political scoops almost as a matter of routine.
As a metropolitan title with the beating heart of a national, it had, in other words, a wildly disproportionate influence. That all changed with the advent of rolling news, first on TV, then in the digital offerings of national newspapers. By the time it staggered into the free newspaper war on the streets of London in 2009, it could be said it was a somewhat tired and grey title.
Under a previous editor, Veronica Wadley, it aspired to controversy but succeeded in sounding terribly sour - not least in a series of petty attacks on the then Mayor of London, Ken Livingstone, and on others (cab drivers) that it had identified as easy targets.
Wadley left soon after the Lebedevs arrived. Under Wadley's successor, the former literary critic and Tatler editor Geordie Greig, the title became increasing urbane and well-written.
At the same time, the Lebedevs engineered the Standard's new business model, turning it into a freesheet, upping its print run in increments to more than 700,000 and trusting entirely on advertising revenues. As a result, what was previously a loss-making title to the tune of at least £20 million a year is now just about breaking even.
Greig has moved on to edit The Mail on Sunday and Sands is now tasked with continuing his good work. "Geordie did an amazing job and I hope to continue in that vein," she says. "He created a paper with a heart."
But Sands also has her own ideas of what the paper should focus on: "Things that I'm particularly interested in are airport capacity, jobs and young people, and the increasing cosmopolitanisation of London. For instance, we're increasing the number of international pages to reflect the fact that London is such a global centre. And it's also true that I'm very interested in politics."
Indeed she is. Sands has impeccable credentials as a serious journalist, having been the deputy editor of The Daily Telegraph in the late 90s. But she first came to prominence two decades ago as the diary editor at the very paper she now edits - and is not immune to the readership-building powers of gossip.
She is also a friend (and former colleague at the Telegraph) of the recently re-elected London Mayor - and is, in consequence, a semi- detached member of the whole Boris City Hall circus.
From an advertising point of view, the good news is that (as you'd hope to find at an advertising-supported free title) Sands is open to dialogue with agencies and their clients. Sadly, though, apart from making general promises to be open-minded and flexible, she shies away from direct questions about this. Recent ad initiatives from the Standard's commercial department include an innovative "e-auction" that contained a number of Olympics packages. However, some of the lots initially failed to attract bids.
Sands also declines to comment on whether the Standard will increase its print run during the Olympics. It was understood that the fanfare of the advertising auction went hand in hand with a strategy to up its print run during the Games. Presumably, any plans to considerably increase circulation will now be under tough scrutiny.
But in any case, she points out that there will be life after the Games - and she argues that the paper's commercial success will be driven by making London's sophisticated and prosperous demographic accessible to advertisers in a compelling editorial environment. "I want to have the best newspaper there is - and that includes having exciting advertising," she says.
All of which must sound good to agencies. Provisionally, it does to Dominic Williams, the director of print at Aegis Media. He says: "Sands has a tough job but she's very capable - and she is coming in at an exciting time. The paper is doing well and is highly regarded. I hope she won't mess it up - and I'm sure she won't."
THE LOWDOWN
Age: Ahem
Lives: London
Family: Husband and three children
Last book read: Bring Up The Bodies by Hilary Mantel
Must-have music: Bach
Desert-island luxury: Newspapers
Motto: (To borrow from Winston Churchill) KBO