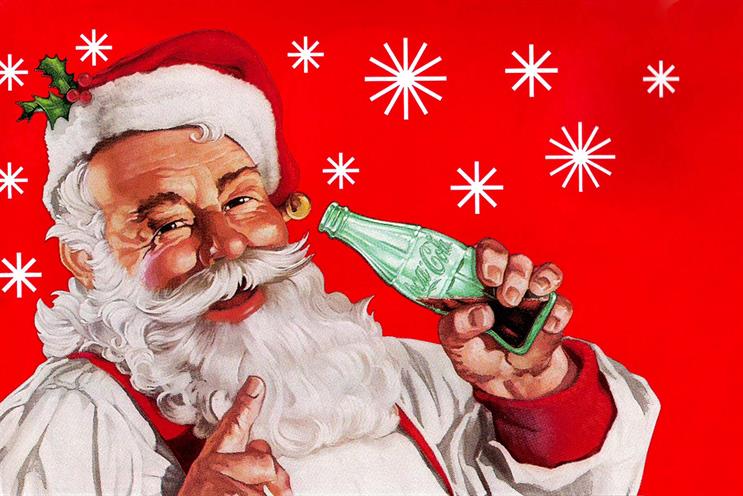 Father Christmas, Saint Nicholas, Santa… a man with many names, but due to the outstanding execution of the Coca-Cola branding team, a man with only one suit. The chubby, red-cheeked, button-nosed, red-suited man we see today is decades old and yet there is no sign of him updating his look anytime soon. Considering our obsession for change in today's generation, this is a formidable feat and something no other brand has come close to achieving.
Whilst making a stake for Father Christmas himself is setting the bar high, there are many more opportunities for brands to become part of consumer's consciousness.
Icons can help brands reignite their spark and get to the heart of what they stand for. Brands can't afford to keep ticking along as younger, more agile start-ups come through the ranks and attract the valuable attention of consumers. Challenging the status quo and stepping out of the box like Coca-Cola will pay dividends when attracting consumer loyalty now and in decades to come.
So if organisations did start branding an icon, how should they even begin to go about it? What if the man we know and love got a makeover from some of the world's most recognisable brands?
Santa gets suited and booted
Before he got his trusty red suit and boots Santa was depicted in a variety of muses – everything from a tall gaunt man to a spooky-looking elf. According to the Coca-Cola site he has even "donned a bishop's robe and a Norse huntsman's animal skin." However, since the year 1931 his wardrobe hasn't changed and his look has become renowned the whole world over.
Re-imagining Father Christmas in multiple different brand guises, from a hipster barman (Absolut), an over-energetic sportsman (Lucozade), to a chilled-out Caribbean sun worshipper (Malibu), shows exactly how brands can get to the root of branding an icon. (Designs credited to Louise Ormerod, designer at Zak.)
Lucozade
Presumably Father Christmas would be a super-fit, energised, healthy man who has found his flow. Imagine what he could achieve – twice as many present drop-offs per hour, his ROI would be through the roof. Here he is standing up on an impatient Rudolf, raring to go, Lucozade in hand, ready for the long night ahead.
Malibu
On the polar opposite end of the scale we've got Malibu Father Christmas, who's taking the opportunity to kick off his boots and catch a few rays of well-deserved sunshine from a deck chair and a sip of that delicious coconut Malibu – sunshine in a bottle.
Absolut
There's just something about Absolut that's inherently cool; it could be its bar staff, crystal clear bottles, cool design collaborations, underground events or authentic Swedish heritage. Either way, these elements are pulled together in a Father Christmas that you'd want to sit next to at New Year's Eve, one who you'd trust to make a delicious, if dangerous cocktail and someone whose tattoos would be the main feature of your Instagram feed that night.
Airbnb
Airbnb Father Christmas is a guy you'd trust, someone who looks well-travelled, trustworthy and as if he'd give you the genuine story behind the story, making sure you belong wherever you are in the world. He's well-equipped for all eventualities and someone whose ideas and recommendations you'd pay attention to.
Apple
It's hard for anyone to visualise Apple without referencing Steve Jobs, but this is our homage. The black turtleneck, iWatch, jazzy socks and hipster beanie are what we think, if Apple did Father Christmas, his wardrobe would be. He would obviously get himself from place to place on a fixie bike, while listening to his tunes on his iPhone, with a bright white apple shoulder bag.
Mulberry
Naturally he's a dapper fellow with a beautifully sculpted British racing green coat, perfectly-fitting gloves, a sophisticated man-bag and the most regal of all the transportation devices, a sleek reindeer with a Mulberry numnah. The most luxurious out of all the Santas, he's the one you'd want to have picked your name for Secret Santa.
Moving beyond the celebrity to become iconic
In order to stand the test of time brands should look to no longer solely rely on celebrity endorsements. Rather than filtering through various celebrity ambassadors, which can often take valuable attention away from the heart of the brand itself, brands should instead follow in Coca-Cola's footsteps and create their own icon.
Not only will it enable them to cut through to relate the values that the brand stands for, but it will also take them to a level of iconic status that will be remembered and loved by consumers that haven't even been born yet. Now that is the true definition of an icon.
Susan Poole is the head of planning at Zak