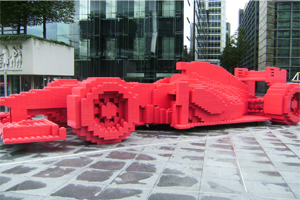 The experience aims to bring to life Santander's TV advert featuring F1 drivers Jenson Button and Lewis Hamilton.
The scale of the installation is a first for a financial services company: the 14m-long car took Asylum Models and Effects 12 weeks to build and weighs seven tonnes. McLaren donated a simulator to give visitors a taste of being at the wheel of an F1 car.
The car and simulator will be positioned outside Santander's London's Triton Square offices all week, promoting credit card and mortgage products to passers-by as part of the Driven to Do Better campaign.
Carat head of brand experience and events Paul Hicks said: "It looks amazing. There's a bus stop on Euston Road nearby. When buses stop everyone getting off comes into the square and gets out their phone to take pictures. It is a big thing for a financial services brand to take on activity of this nature. It's very experiential and not many other financial services market in this way."
To leave a comment register and let us know your thoughts.