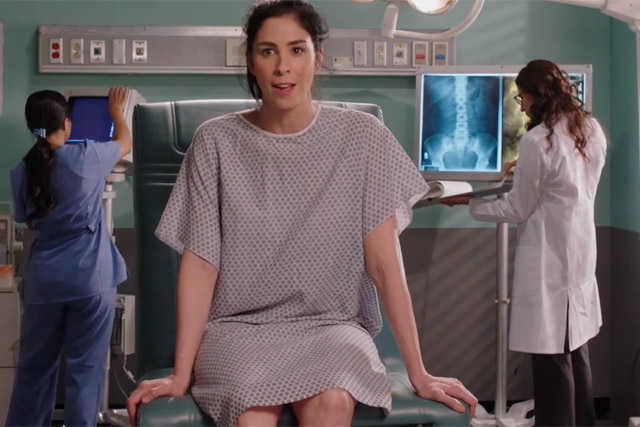 In the online ad, which has racked up almost one million views on YouTube, Silverman agrees to surgery that will make a man out of her, with the idea that having a penis will finally earn her equal pay.
The ad, created by Droga5 for the National Women's Law Center, managed to offend some in the transgender community, which itself is marginalised in the workplace.
Vincent Paolo Villano, the director of communications for the National Center for Transgender Equality, told Campaign US: "The National Center for Transgender Equality is struck by the insensitivity of Sarah Silverman's video and we have reached out to the National Women's Law Center to provide a cultural competency training to ensure that transgender people are always part of the conversation when it comes to the wage gap."
Villano said the video made light of the transgender community's struggle for equal pay.
He said: "As we found in the 2011 National Transgender Discrimination Survey, transgender people are four times as likely to live in extreme poverty – a household income of $10,000 (£6,226.5) a year or less – compared to the general public.
"The wage gap has deep relevance for transgender people and this video highlights a significant learning opportunity for all of us to remember that."
In response to the criticism, Silverman tweeted: "If I literally got a sex change I would indeed find the work force far less friendly. The video wasn't transphobic, it was transignorant — never crossed my mind. But to my 'unintentional' credit — people are talking about it & so begins awareness.
"Please don't punish this cause because of my video. I certainly don't only fight for causes that concern or benefit me and I expect the same of the vital trans community."
If I literally got a sex change I would indeed find the work force far less friendly. The video wasn't transphobic i… http://t.co/7CNu655G2i

— Sarah Silverman (@SarahKSilverman) October 10, 2014
Droga5 and NWLC did not respond to a comment request, but issued a statement about the controversy Thursday afternoon.
Marcia Greenberger, the co-president of the NWLC, wrote: "The Equal Payback Project uses Silverman's brand of absurd humor to draw attention to this ludicrous situation – it was not our intent to make light of the serious issues transgender people face.
"We will share statistics about job discrimination faced by transgender people as part of the Equal Payback Project. And we commit to using some of the resources raised by this project to bring awareness to the discrimination faced by transgender women and men."