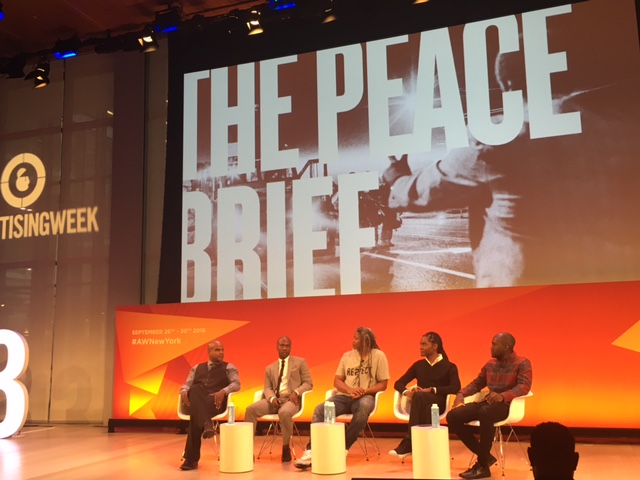 The seemingly unending litany of police shootings that has given rise to the Black Lives Matter movement has also caused much soul searching on Madison Avenue. Shouldn't the nation's advertisers be able to help in some way? Yesterday, the founders of Saturday Morning, a coalition formed by four leading African American creative directors last month in the wake of that week of violence, gave the industry an assignment.
Speaking to an audience at Advertising Week, the founders shared the details of their first open "Peace Brief."
The co-founders—Keith Cartwright, executive creative director at Butler, Shine, Stern & Partners, Geoff Edwards, creative executive at CAA, Jayanta Jenkins, global group creative director at Twitter, Jimmy Smith, chairman and ceo of Amusement Park Entertainment and its most-recently added partner Kwame Taylor-Hayford, managing director at Chobani—for the first time outlined the vision for Saturday Morning and previewed how their advocacy program, which they are establishing as a non-profit, will work.
As they promised last month in an open letter on their website, saturdaymorning.co, Saturday Morning was created as a coalition for peace. It's not an ad agency but a platform to share, promote and create world-changing ideas. The team is currently creating a digital hub on their site where they will issue a new peace brief every quarter, where people can upload, discuss and share their ideas. The team is inviting everyone, from any discipline and industry, to join the cause. "Everyone is part of this and we're expecting you to create and make," said Cartwright. "This is in of itself an organizing principle for participation."
Since making the announcement, they said, they received an overwhelmingly positive response, about 800 emails, and commitments from creative luminaries like Lee Clow, who is mentoring the group and working with them through TBWA's MAL for Good. This week, they said, at least two marketers, Marc Pritchard, global marketing officer of Procter & Gamble, and Airbnb, have expressed their support. Sponsorships will help bring the ideas to life and the group will rely on earned and paid media to get the messages out. Universities, such as Syracuse University, which has already expressed interest in participating, they said, will include the briefs as part of their curriculum. The idea is to inspire solutions from all types of schools, from the arts & sciences to the engineering and law schools that can help create legislation. "The diverse level of thinking we hope is new to the world and the marketplace," said Cartwright.
The name of the group, Saturday Morning, was chosen to symbolize the antithesis to the Sunday morning described by Martin Luther King in a 1960 Meet the Press interview as the most decisive day of the week, said Edwards. It was to mark "a day of inclusion," the Saturday when the co-founders first met after those July shootings to talk about how to "essentially make the world a better place," he said. When announcing its formation last month, the team described the organization's goal, to "build awareness, promote change and shift the overall perception that black lives are in some way not as important as others."
While many of the cultural conversations around racial social justice have centered on Black Lives Matter, the Saturday Morning founders made it clear that the initiative, or rather the advocacy platform they are launching, is not the next generation of that movement. The idea was to apply the same skills they use as marketers to create behavioral change to solve one of the nation's biggest problems. "What if we use those same minds for something far more important, for peace. How can we offer a solution," described Edwards. "But let's be very, very clear," he added, "not as a Black Lives Matter 2.0 version. What they are doing is incredibly important, but what we're offering is how people of all different backgrounds and colors can unite with this purpose."
In the last year, 844 unarmed citizens have been killed by police and 51 police officers have been killed in the line of duty, they said. The goal of the first open brief is to reduce those numbers.
The group stressed that they they are not looking for ads, but larger ideas. "We are not here to create something that is going to end up in Cannes," said Smith. While the ideas may eventually end up there, "this is bigger than that. It's about having an impact."
Jenkins added, "It means creating empathetic points of view, creating things that bring people together… and begin to inform a different behavior."
Smith threw out a few ideas to illustrate, everything from legislation that can possibly prevent stop-and-frisk methods of law enforcement from being reinstated— "One of our folks running for president wants to stop and frisk. That's probably not going to bring the police and the community together," he said—to police car redesigns and robots that can approach cars to eliminate the threat of danger. And he suggested even more familiar, simpler communication methods for movements, such as T-shirts, music and art.
The group stressed its not just about black lives, but about the police officers as well. "Many of us have relatives who are police officers," said Smith. "There would be complete chaos" without them. Part of the mission is to figure out a way for the voices of those positive police officers to be heard. "Even though they are the majority," he said. "Their voices aren't being heard and their wishes aren't being acted on."
While the mission of Saturday Morning is "ambitious," the team said, it's about taking action. "This is not pie in the sky," said Smith, but the group can't do it themselves. Working together, he said, "we can make some serious stuff happen."
Saturday Morning expects the digital platform to be live in a couple of months and the brief process to officially begin early next year. And while the emphasis is on racial relations, the team again emphasized, "It's not a black movement. We need it to be a multicultural movement," said Jenkins. "The greater goal is that one day we no longer need to exist."