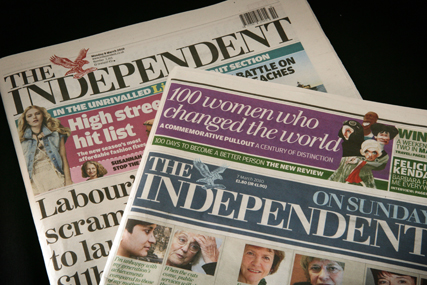 Sultan Muhammad Abuljadayel took a stake of between 25% and 50% in holding company Independent Digital News and Media, according to Middle East Eye.
Evgeny Lebedev, the owner of The Independent's parent company ESI Media, now has a shareholding of below 50% in Independent Digital News and Media. Justin Byam Shaw, ESI's chairman, also holds a significant stake in the business.
The company's latest financial results showed a £1.7m pre-tax profit in the year to 2 October 2016, up 30.8% from, the previous year, while revenue was up 74.4% to £14.3m, according to Companies House filings reported by Middle East Eye.
Last year The Independent and Independent on Sunday titles went online-only, while sister title i was sold to Johnston Press.
A spokeswoman for ESI Media said: "To secure further strategic growth for The Independent, Independent Digital News and Media Ltd has expanded its investor base to include a minority shareholding by Sultan Abuljadayel.
"At the same time, the editorial independence of The Independent has been formally protected by a new agreement between the shareholders. The new investment and the guarantee of editorial independence will allow The Independent to flourish into the future."