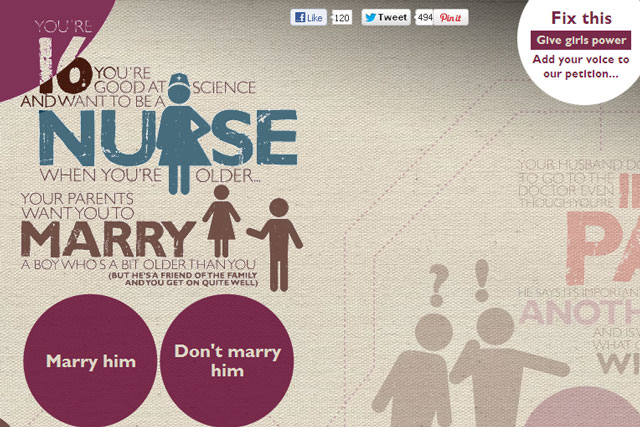 The campaign, created in-house, hopes to persuade world leaders at the summit to make financial and political commitments to family planning and to educate people about teenage pregnancy and its high mortality rate for girls across the globe.
It comes under the charity's 'No child born to die' campaign, launched in January 2011, which has already secured extra investment in vaccines and funding for health workers, in a bid to help the 7.6 million children across the world under five that die each year.
The online game, which asks consumers to place themselves in the position of "a young woman who doesn't have the same power to make choices as we do in the UK", shows consumers the lack of options for teenage girls within their families and marriages in third world countries.
It directs consumers to sign a petition and share the educational game across Twitter and Facebook, and is supported by email marketing activity.
The Family Planning summit takes place this Wednesday (11 July) in London, hosted by the UK Government, the Bill & Melinda Gates Foundation and other partners, led by a speech by David Cameron.
The summit aims to ensure that an extra 120 million women that want contraception have access to it by 2020, which the charity claims would save 3 million babies from dying in their first year, more than 100 million fewer unintended pregnancies and 200,000 less women and girls dying in pregnancy and childbirth.
Fundraising in November last year for the 'No child born to die' campaign recorded more than £2.1 million through the ITV talent show 'Born to Shine' on ITV.