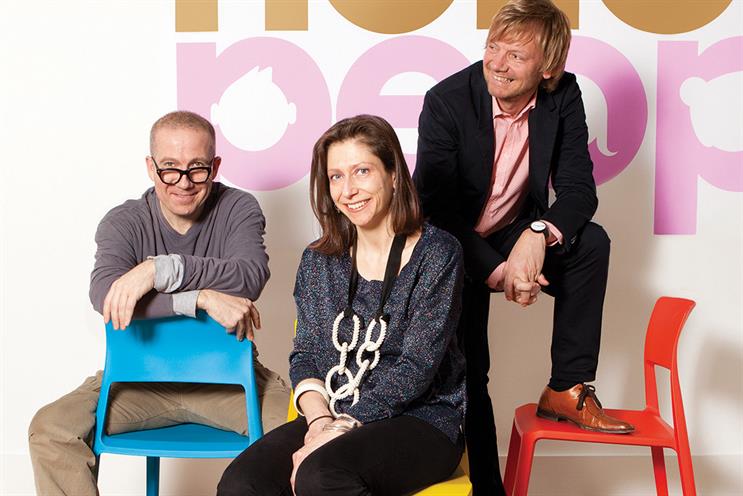 Hello People sounds like the sort of place where you'll feel welcome. Where, on one of the few warm mornings of the summer so far, you can sit around in a sunny ground-floor meeting room discussing pleasant things with pleasant people.
The agency launched back in April, when the former Ogilvy & Mather chief executive Hugh Baillie and chief strategy officer Rachel Hatton joined forces with Dave Dye, the renowned art director (four D&AD yellow Pencils sit on a shelf) and founder of DHM.
Over pots of tea and coffee, and backed by the soothing chants of the Hare Krishna devotees on Soho Street, the trio outline their plans for the agency.
Baillie and Hatton worked together during long stints at Bartle Bogle Hegarty and then for two years at O&M, where they helped it to win clients including Expedia and Kronenbourg, before deciding to move on.
Hatton, a bright, considered operator who has also worked at BMP (where she met Dye) and the BBC, says of the O&M experience: "It was an opportunity to be in more of a leadership role, which gave us the taste and confidence to do something smaller, something more in our own control."
It seems Baillie was intent on starting his own business and talks started in the new year with Dye, the sole remaining founder of DHM after the departures of Justin Holloway and Jorian Murray. "I suppose I enjoyed it more than the others," Dye says with a smile.
Between them, Hello People's founders have worked on renowned activity for clients including Britvic, The Economist, Lynx and Mercedes-Benz, and will hope that they prove capable of attracting a similar class of customer in their new guise.
Baillie, who since leaving O&M has grown his account-man hair out into an auburn surfer shag, says: "There's got to be room for three bright people who get on, and are experienced, to have a go at doing some really good work."
But Hello People has plenty of independent competition on its hands, so how will it stand out in this pool of nice people who have eschewed the network grind?
Hatton says it is less about a focus on the complexity of channels and technology than on people and how they live their lives: "I suppose the way we think we can best help navigate that is by an understanding of how people think, feel and behave in real life. It's all about realising that people have better things to do than worry about what brands are thinking all the time."
Dye, along with his 12-strong team and clients including Rightmove and Adnams, is buying into this vision as a way of building a larger business than DHM.
We need more optimism and positivity in the world
Something of a serial start-up man, having also founded Campbell Doyle Dye, he says: "We [DHM] got stuck in a creative-boutiquey box that is hard to get out of. So I thought we should look at how to scale it up and take it more seriously – look from scratch about how we should build an agency rather than this creative boutique arrangement."
Baillie says of Hello People's name: "It's upbeat and it's positive, and we need more optimism and positivity in the world."
It will need to say "hello clients" before it gets to practise what it preaches. Dye is right to talk about "creating work that resonates" and it has some chance with DHM's remaining clients. Yet it will need to welcome that big, founding piece of business to really make an impact in the London market.