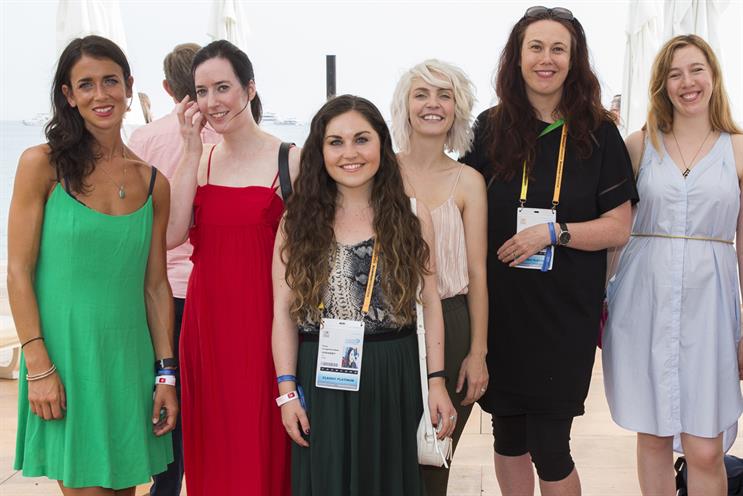 Diversity may have been one of the biggest themes at this year's Cannes Lions but the lack of it remained notice-able on the Croisette, with one delegate complaining that the festival looked like "a stag do".
Meanwhile, research unveiled at Cannes by J Walter Thompson New York and the Geena Davis Institute on Gender in Media, which analysed more than 2,000 ads from the Lions archive, suggests a link between the lack of women in creative departments and continued gender stereotyping in advertising.
The study found that there were twice as many male characters in ads than female ones. Women were 48% more likely to be shown in the kitchen, while men were 50% more likely to be shown at a sporting event.
In a bid to better bridge the gap between rhetoric and reality, Campaign teamed up with GoDaddy to create the GoDaddy Scholarship for Women in Technology, which provided the funds for six women in the creative technology sector to attend Cannes. It is part of Campaign's #Campaignfor-Equality initiative, which urges the industry to move from talk to action when it comes to addressing diversity.
Kate Cox, vice-president and EMEA chief marketing officer at GoDaddy, says that all too often women in technology are under-represented and underpaid. She explains: "Cannes Lions will play a role in effecting change. By partnering Campaign's #CampaignforEquality, GoDaddy has been able to shine a light on some truly outstanding women working in the creative technology sector.
"GoDaddy is passionate about helping doers, makers and idea generators, from start-ups and home businesses to tech entrepreneurs with ambitions to become the next big thing." Cox adds that GoDaddy will keep in touch with the winners to offer them advice and mentoring.
Here, the six winners share their insights, experiences and hopes for the future.
No box-ticking
Natasha Lytton, head of marketing and communications, Seedcamp
It feels bloody obvious but why is a lack of diversity still such a massive issue in creative industries, tech companies and business in general?
I sat through a number of talks on this issue and found myself nodding along in agreement. Of course it makes sense that diverse teams create more compelling and inclusive work.
There is a reason why Always "#LikeAGirl", Ariel "Share the load" and Dove "Campaign for real beauty" struck a chord around the globe – and not just with women. They tapped into very real experiences and established an emotional connection with the public, which allowed the brands to transcend a flash-in-the-pan campaign and create a movement.
I also went to an awards ceremony and sat fuming while group after group of male-dominated teams went on stage to receive awards handed out by male presenters and jurors (even though I was assured by many that I'd just picked a bad night for my first experience of the awards).
In one talk I attended, a female chief creative officer stated that we have to "look for the right people, not the people with the right experience". I have never been in favour of rules in how companies hire, but something needs to change. And not just in the workplace.
I went to the University of Oxford as one of the "quota state-schoolers", as many liked to joke – "quota girl" and Eliza (as in Doolittle) were just a couple of my nicknames. These names put doubt in my mind that I had less right to be there than others. I fear for what forced hiring rules do to women in the workplace. We shouldn't have to question whether we deserve to be there or if we're just there to tick a box.
I remain convinced that the best way to encourage diversity is through collaboration, not isolation. Women-only events will only ever preach to the converted. Let's push for diversity because it creates opportunity and inclusivity and produces great results.
Be a positive force
Amy Williams, founder and managing director, Good-Loop
After a week of meeting amazing people over a glass or five of rosé, I realised I had more in common with Cannes attendees than I first thought. Like me, the people who attend the festival are ambitious and passionate about the industry. Like me, they are eager to discuss how we can improve what we're doing and how we can make advertising more positive and impactful. And, actually, people who attend Cannes also tend to be incredibly humble: they want to learn from their peers and draw inspiration from the amazing work of others.
I think the main thing the festival has taught me is that senior, influential people within the industry are just people. I learned to appreciate what their experience has to offer rather than being intimidated. Because, at the end of the day, whether you're a ten-month-old start-up like Good-Loop or a ten-year-young established player, we're all united by a belief that advertising is important and we all have a responsibility to make it a positive force in the world.
Say yes
Lolly Morris, digital design director, Iris
I have learned so much. I have met Kathyrn, Tess, Tash, Ina and Amy – five women who are shaping the future for other women in the creative tech industry. We have shared an experience that I will remember for the rest of my life. And the world of women in digital doesn't seem like such a lonely place any more.
I have realised that Cannes is not about the seminars; it is about talking to influential people and creating a network of allies. So how can you find exciting opportunities like the one I have experienced?
Say yes. If you're faced with an opportunity and not sure whether you should say yes, go for it. When you see a competition that you don't think you would ever win, enter it. You see a job that you would never get? Apply for it. You never know what opportunities you may be faced with if you are brave enough to seek them out.
Say no. When a man treats you "like a girl", when you are faced with discrimination, unequal pay and disparaging comments, tell them that it is not acceptable.
Say hi. Meet as many people as you can. Get yourself out there. There are so many incredible women in this industry and we have so much to learn from and be inspired by each other.
The future is innovation
Ina O' Murchu, creative innovation technologist
For me, the most outstanding talk was by Sheryl Sandberg, who spoke about gender equality's power in advertising and business. Another highlight was the strong presence of technology – I particularly loved YouTube Beach and its Pride event. Music producer Alex da Kid spoke about adapting to new tech – using artificial intelligence, Watson and sentiment analysis is the kind of creative future that lies ahead.
The agenda, participating start-ups and shortlisted entries for the Innovation Lions make one thing clear: technology has fundamentally evolved the definition of what advertising is. And now that the worlds of creativity, data and tech are inextricably linked, the need to collaborate across industries and skills is more important than ever, making Innovation Lions a not-to-be-missed experience.
The future of advertising, without a doubt, lies in start-ups and innovation.
Fight back
Kathryn Web, creative developer, AKQA
Diversity and gender equality maintained a strong presence throughout the festival. Within the first few days, I had already been surrounded by fantastic female speakers. My favourite talk contained the kick-ass line-up of Madonna Badger, Tina Brown, Sheryl Sandberg and Marc Pritchard, who led me from rage at the way women are still being objectified to hope for the great ways the industry can fight back.
A poignant moment was when I saw the first panel of speakers that was all white and all male. I felt discomfort and, perhaps unfairly, a little disengaged. The presence of women in these talks had become the new normal for me and it had started to give me more hope and enthusiasm that one day I could belong on such a stage.
After this amazing spread of knowledge, inspiration and fun, I am motivated to help anyone who is passionate about making a difference to believe they can achieve it, no matter their gender, race or class.
Create a booming voice
Tess Coughlan-Allen, marketing manager, Mind Doodle
This year, Cannes Lions was brave enough to acknowledge the equality issues that the creative technology industry, and the festival itself, have been witness to for decades. Through the GoDaddy scholarship, I was able to be a voice for the under-represented.
I represented women in the technology industry and I represented Mind Doodle, a start-up in a festival celebrating the biggest brands in the world. A highlight of my trip was filming an interview with the Cannes Lions camera crew to address the problem of inclusivity.
Gabourey Sidibe, the incredible actress best known for Empire and Precious, said: "Women have been here just as long as men. We are quiet because the male voice is so loud. The voice is booming. But we are here too."
The festival has taught me that I can help create a booming female voice. We can work together to create a better and fairer future.