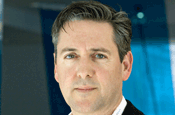 Sayliss will fill the newly created role of country chair for VivaKi UK.

The UK heads of its Digitas, Starcom MediaVest Group and ZenithOptimedia businesses will each continue to report to the regional and global chief executives of their agency brands, but will also sit on a new UK VivaKi board, chaired by Sayliss.

His appointment follows the creation of VivaKi in June as a global strategic unit designed to boost the impact of client media spend alongside making greater investment in digital.

The creation of a UK VivaKi trading arm followed, with SMG's Chris Locke and ZO's Chris Hayward heading group negotiations.

However, the appointment of Sayliss, who will also retain his worldwide ZO role, signals Publicis' intention to encourage even greater co-operation between Digitas, SMG and ZO.

Gerry Boyle, the chief executive of ZO, Stewart Easterbrook, the chief executive of SMG, and Howard Geisler, the president of Digitas UK, will work with Sayliss on ways of developing tools, technology and client relationships across the group.

Sayliss said: "We have tremendous assets to work with, not only in digital, but in the talent that lives within the brands.

"I look forward to working with the brand CEOs to help liberate these assets, deliver growth and, ultimately, meet and exceed the expectations of their clients and their future needs."

Sayliss will report to the VivaKi global board of directors, led by the managing partners Jack Klues and David Kenny.

Klues said: "Adrian has a great knowledge of the business and understands the challenges that clients face in today's digital environment."