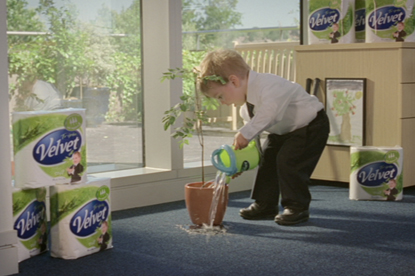 Fallon, which handles the £3 million UK Velvet business, and Publicis, which handles Charmin across Europe, have both been asked to repitch ?for the business as part of the pitch process.

Fallon inherited the Velvet account in 2002 after Publicis was forced to resign it due ?to a conflict arising from its appointment to the Procter & Gamble roster.

At the time, P&G owned ?the Charmin toilet tissue brand, which was one of a number of tissue brands assigned to Publicis as part of the realignment and a direct competitor to Velvet.

SCA then acquired P&G's European toilet tissue brands, including Charmin, in 2007 as part of a cash deal worth €512 million, but kept the account with Publicis.

The review does not involve SCA's other roster agency, Delaney Lund Knox Warren, which handles advertising for the incontinence brand Tena.

Fallon's most recent ad for Velvet featured the executive toddler, who has fronted its campaigns since 2006.
The ad, which pushed Velvet's green credentials, saw the pint-sized board member carefully replanting trees.

Emma Heald, the brand marketing controller at SCA, declined to comment.