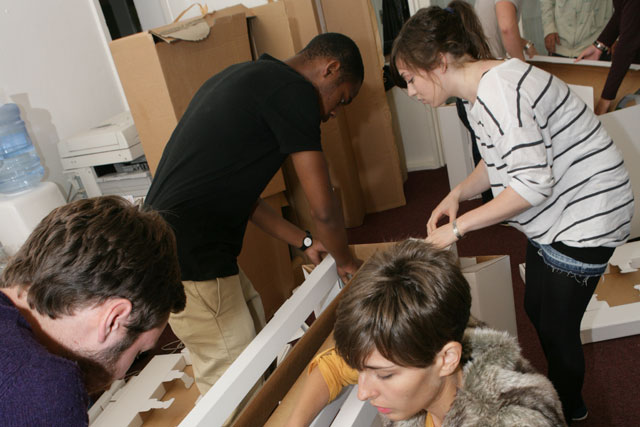 In what has been an invigoratingly exhausting rollercoaster of a year, the School of Communication Arts was reborn with a remit greater than to reinstate the late John Gillard's vision. Problems were identified in our industry and the academic system, and the agenda for SCA 2.0 was to address them.
SCA is the first school in the world to train ideapreneurs. Agencies sponsor us yearly as either Legends for £20,000 per year or as Heroes for £5,000 per year. As well as getting first dibs on the year's creative harvest, they effectively invest in the scholarship system and hardship fund, and buy shares in the businesses started by the ideapreneur system. We, the students, set up and market our own agencies - this year's were BUSK and LoveChild - working for real clients and pitching for real business.
If you're wondering whether all this has worked, here's my attempt at a more scientific analysis.
Problem
Many graduates leaving art schools are ill-equipped and not industry-ready.
Hypothesis
If you can get the top people from the marketing and creative industries to mentor a selection of talented students for a year, will you end up with better work than other colleges, or even agencies?
Apparatus
Four hundred mentors.
Thirty students.
One church hall in Vauxhall.
One bossy bulldog.
Ten deckchairs and half-a-bicycle.
Method
Spend 9am-6pm every day, at least, working on live and speculative briefs. Instil an atmosphere of healthy competition. Add a handful of mentors with various professional backgrounds each day.
Conclusion
There have been many successes. Oliver Tiersch and Victoria Trow picked up first and second place at Clear Channel's Idea Seminar Rapid-Fire Pitch. Oliver and his partner, Mar Broseta, then got their first campaign to go live. Nathan Holley picked up a Chip Shop award, Victoria and Daniel Wallace got themselves in the book at this year's D&AD Student Awards, and Lewis Beaton and I were shortlisted for The Guardian UK Cannes Young Lions.
But I don't think success can be measured by material accolades. It is the way in which we now think. The regular use of "why". The conversations with agencies about the quality of our work. Understanding the role of collaboration. The importance of sharing. The lack of ego. Healthy competition. Of course, the real proof will be how many of us have jobs when our agency placements are over.