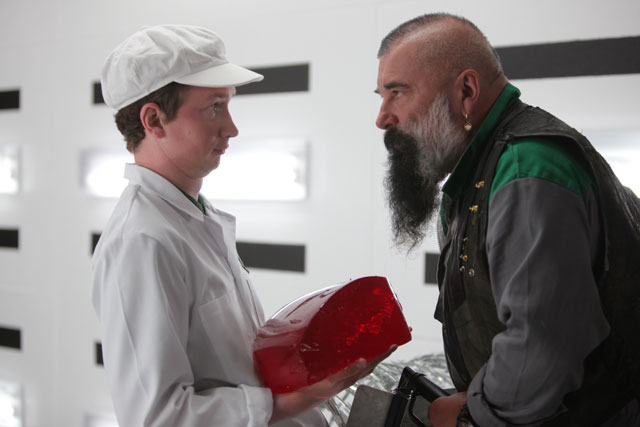 Score: 4
Agency fact file: Fallon
Type of agency
Creative
Company ownership
Publicis Groupe (SSF)
Key personnel
Gail Gallie chief executive
Magnus Djaba managing director
Rachel Barrie director of strategy
Augusto Sola creative director
The Nielsen Company billings 2010
£120m
The Nielsen Company billings 2009
£208m
Declared income
£18.9m (2009)
Total accounts at year end
17
Accounts won
2 (biggest: Nokia)
Accounts lost
2 (biggest: More Th>n)
Number of staff
147 (-2%)
Fallon created a chocolate bar for Cadbury in 2010. But there was little else sweet about a year in which more than 40 per cent of its billings were wiped out by accounts lost in 2009.
2010 began and ended with departures. The senior creative Tony McTear left in January as Fallon made ten redundancies, and the managing director Karina Wilsher followed the agency's Sony account to Anomaly. But the biggest ructions came when the founding fathers Laurence Green and Richard Flintham quit to form their own agency.
Gail Gallie, the former BBC marketing director, was brought in as chief executive. Flintham was, in Gallie's words, "irreplaceable" and so some lateral thinking had to be engaged. Her strategy was to introduce a "strong six-pack stomach" of creative heads operating in a group system, with the creative director and newly made partner, Augusto Sola, overseeing briefs. Creative directors recruited included John Cherry from Mother, Gui Borchert from Syrup New York and Matt Groves from Goodby, Silverstein & Partners.
Fallon lost the smoothie chunk of the Innocent business after a review and More Th>n moved its £11 million UK advertising account into VCCP after a pitch. The BBC held a statutory review and, by March 2011, had dropped Fallon from the roster. On the plus side, it landed a global Nokia brief. Other clients stayed put. Cadbury, despite the Kraft takeover, invested in the "Spots v Stripes" campaign to get the UK playing games.
Despite all the turmoil, Fallon produced some strong work. It scooped the French Connection account and created witty and stylish TV and press work for the brand. The Eurostar campaign, devised by Juan Cabral, was another creative success. The Skoda follow-up to "cake" did not disappoint either. However, 2011 could sorely test the strength of the new creative collective, not to mention the nerve of the senior management.
Score last year: 4
How Fallon rates itself: 6
"Dear friends departed; an old friend (and first client) joined. Launched the first movie created by kids with Tate and the first nationwide game with Cadbury. Produced our first store experience with French Connection and hosted our first Tedex event. Hired our first director of digital and integration, and three brilliant creative directors. Won a place on the Nokia global roster and gold at the IPA Awards. Year of change, yes; year of upheaval, no."