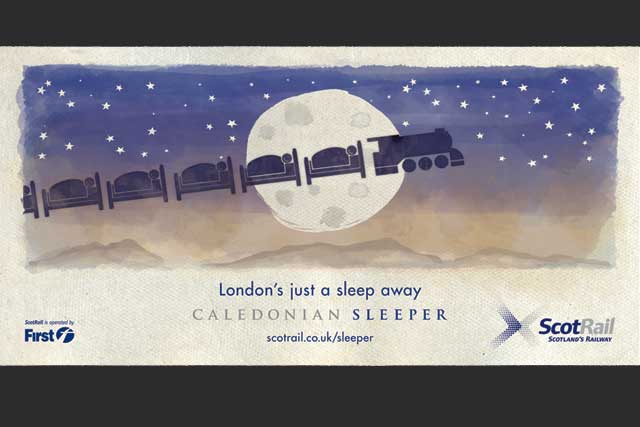 Score: 5
Agency fact file: Leith
Type of agency
Planning-led integrated
Company ownership
Cello
Key personnel
Richard Marsham group managing partner
Gerry Farrell creative partner
David Amers planning partner
Ed Brooke head of Leith
Gail Skinner finance director
The Nielsen Company billings 2010
£10m
The Nielsen Company billings 2009
£12m
Declared income
£9m
Total accounts at year end
68
Accounts won
25 (biggest: Scottish and Southern Energy)
Accounts lost
1 (Coors Brewers)
Number of staff
109 (-7%)
Emotional hurt aside, it was at least the only account last year to leave the 26-year-old group, which operates from London and Edinburgh and includes Stripe PR, Blonde Digital, the brand consultancy Leithal Thinking and Leith Records. That's not to say it was a dull year: Leith retained eight pieces of business that went up for grabs. It also won 25 new accounts.
As to be expected, much of this haul was for work north of the border but there were some national assignments and big brands among them too - Scottish & Southern Energy (the UK's second-biggest energy provider), News International (The Scottish Sun and News of the World), the train operator First Great Western and the Tesco-owned Dobbies garden centres.
And it's these wins that give some confidence that Leith might ultimately be able to sidestep the googly delivered by Coors and the slashing of Scottish public-sector advertising on which it has so heavily depended.
Creatively, Leith made some headlines in 2010 with Grolsch's first cinema campaign in five years that showed the distinctive bottle twirling around to the jazz track It Don't Mean A Thing (If It Ain't Got That Swing) and which was thought to have resulted in more than one million impacts over two weeks last April.
And its creative work on Irn-Bru helped to deliver a Campaign Media Award for PHD North, as part of a campaign that urged Scots to mate with Brazilians and improve the country's footballing gene pool.
2011 will be a year in which public-sector revenue cuts bite. Leith should, therefore, look to demonstrate that it truly has the strategic and creative prowess to compete with its London rivals.
Score last year: 6
How Leith rates itself: 7
"Bucking the marketplace and brushing aside the loss of Coors, Leith and its subsidiary brands picked up significant national business alongside a large collection of local wins. Leith's creative reputation remained strong with Irn-Bru, s1 and Scottish Government awarded in Scotland and London, while it reinforced its reputation for innovation by establishing Leith Records. Leith, yet again, picked up Marketing Services Agency of the Year (Marketing Society) and Agency of the Year in Scotland."