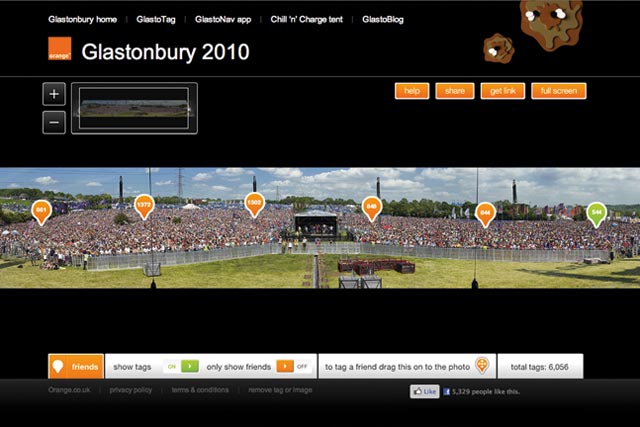 Score: 6
Agency fact file: Poke
Type of agency
Ideas-driven, digital creative
Company ownership
Founding partners and Mother
Key personnel
Nick Farnhill founding partner
Nik Roope founding partner
Peter Beech founding partner
Tom Hostler founding partner
Declared income
£4.7m (unaudited)
Total accounts at year end
17
Accounts won
4 (biggest: Contiki)
Accounts lost
1 (Barnardo's – resigned)
Number of staff
54 (+8%)
Poke also developed an online direct sales channel for French Connection, called "YouTique', which allows customers to buy clothes via the ads.
Other outstanding work included the Orange "Glastotag" campaign, which set the world record for the most-tagged photo. The campaign allowed the brand to interact with the 7,000-plus people who tagged themselves and a wider audience of Facebook users. Another novel idea was the "bakerTweet" Twitter tool the agency developed to alert customers when freshly baked goods were coming out of Albion Bakery in Shoreditch. On a grander scale, the agency also launched the Skype Mobile app and created a popular, content-rich website for the Virgin Formula One team.
Poke bases its business model around organic growth, rather than chasing new-business prospects, and it added business from clients including Orange, French Connection and Skype in 2010. All the more impressive when you consider the agency waved goodbye to two founding partners in the space of a year. Simon Waterfall left the agency in 2009, only to be followed by Iain Tait, who left to join Wieden & Kennedy at the beginning of 2010.
Nicolas Roope and Nick Farnhill, two of the Poke London founders, remained to lead the agency through a year that defied expectations.
Score last year: 7
How Poke rates itself: 8
"2010 gave us plenty to be happy about. We increased our fee income and produced some great work, including a world record-breaking GlastoTag for Orange, which continues to hand us juicy communications challenges. We've helped Skype to redesign Skype.com, which will get more than one billion unique visitors this year. We've added Ferrero's Tic Tac, the travel specialist Contiki, Sofa.com and the Swedish insurance giant If to our client list. We also helped launch and chaired Internet Week."