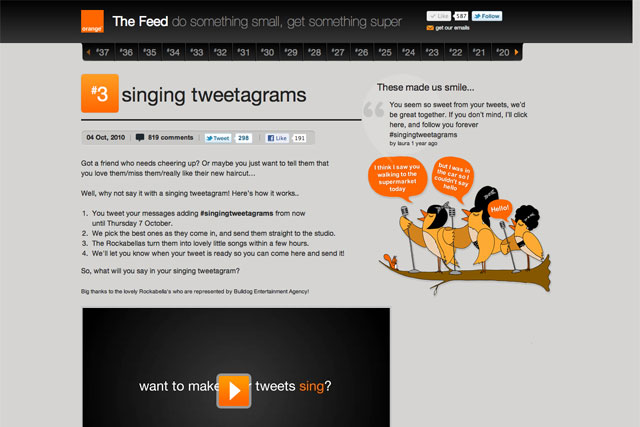 Score: 6
Agency factfile: Poke
Type of agency
Ideas-driven, digital creative
Company ownership
Founding partners and Mother
Key personnel
Nick Farnhill managing partner
Nik Roope executive creative director
Peter Beech managing partner
Tom Hostler managing partner
Declared income
£4.9m
Total accounts at year end
18
Accounts won
7 (biggest: Mulberry)
Accounts lost
2 (biggest: Manchester City FC)
Number of staff
57 (no change)
The agency recorded double-digit growth and saw its fee income rise by an impressive 11.8 per cent. In general, Poke has opted to stay out of the cut and thrust of the new-business fray, instead keeping the main focus on the clients it has. But last year, the agency attracted some high-profile business including Mulberry, which appointed the shop to help develop a strategy for its digital channel and relaunch its website. The agency also won a brief to help launch The Huffington Post in the UK and was hired by the Mozilla Foundation to work on the new product Firefox 6.
Notable work from Poke included the relaunch and redesign for Skype.com and "Orange Film To Go", which involved a website, a mobile app, social media work and display advertising. Poke also created a Facebook game for Contiki, the holiday brand.
The shop picked up awards at the Webbys for its BBC Worldwide's Lonely Planet and Skype work and also contributed to an exhibition in a museum: the agency's "BakerTweet" work was part of the "Talk to Me" exhibition at the Museum of Modern Art in New York.
Hirings included Jemima Garthwaite, who joined from Groupon to head Poke's social media team, and Gus Mackinnon, who joined as creative director from Kitcatt Nohr Digitas.
Last year saw a solid performance and some innovative campaigns, all of which sets Poke in good stead for 2012.
Score last year: 6
How Poke rates itself: 7.5
"Poke turned ten. It seems like only yesterday that Poke was but a wee thing; a twinkle in our eyes. But in 2011, we hit double digits and spent a fair deal of time reflecting on the decade's work and feeling very proud that much of it still feels as fresh now as it did when we launched. We're also going into 2012 with great new talent and several new clients and creative opportunities."