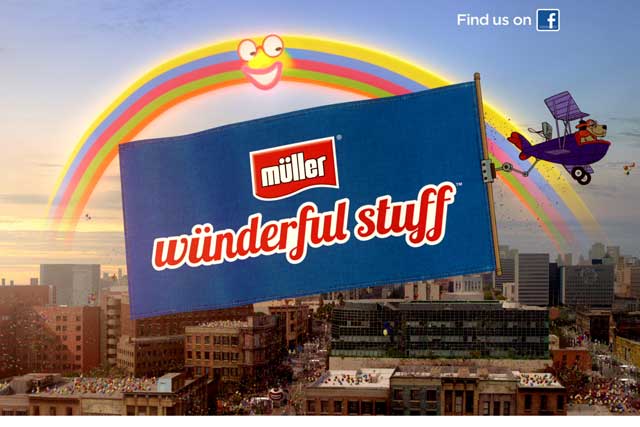 Score: 3
Agency fact file: TBWA\London
Type of agency
Creative
Company ownership
Omnicom
Key personnel
Robert Harwood-Matthews UK group president
Andre eDede' Laurentino executive creative director
Andy De Groose managing director
Zaid Al-Zaidy chief strategy officer
Nielsen billings 2011
£128m
Nielsen billings 2010
£146m
Declared income
£22m (2010)
Total accounts at year end
20
Accounts won
5 (biggest: Game Group)
Accounts lost
2 (biggest: Mars)
Number of staff
176 (-14%
But that's what TBWA\London is saying about Muller. It picked up the consolidated Muller business (having steadily lost bits by stealth in previous years), launched an epic - if somewhat baffling - ad and then resigned the account following the departure of the client's marketing director shortly afterwards.
In fact, the whole episode was almost as confusing as the ad itself,which featured a host of disparate cartoon characters, such as Muttlery and some of the Mr Men. No matter what else was achieved in 2011, there's little doubt that it will probably be remembered for the Muller debacle, not least because TBWA\London made so much noise shouting about how it heralded a creative revival.
But that seems a bit unfair because there is much else to talk about - both good and bad. So first, some of the good stuff: TBWA\London hired Andre "Dede" Laurentino to fill its vacant executive creative director chair; and it won some new accounts - most notably the struggling Game Group and a couple of brands (Campo Viejo and Azpilicueta) from its existing client Pernod Ricard, as well as the European CRM, digital and data account for EA Games.
But this was outweighed by the loss of the Mars brands Galaxy, Pedigree and Whiskas - which were realigned into the BBDO network - and, of course, Muller. Given this, it's not a year that anyone at the agency should look back on with much happiness.
Score last year: 5
How TBWA\London rates itself: 7
"Global realignments aside, TBWA put in a strong performance in 2011. Laurentino energised the creative department with D&AD, Cannes, Creative Circle and British Arrows awards across TV, PR and social media. Following five new-business wins, the nation and industry got talking with Muller and, at Christmas, with burping babies and telekinetic cats for the retailer Game Group. Initiatives such as Eastern Eggs and Ad\vent are extra proof of the strong culture prevailing at 76 Whitfield Street."