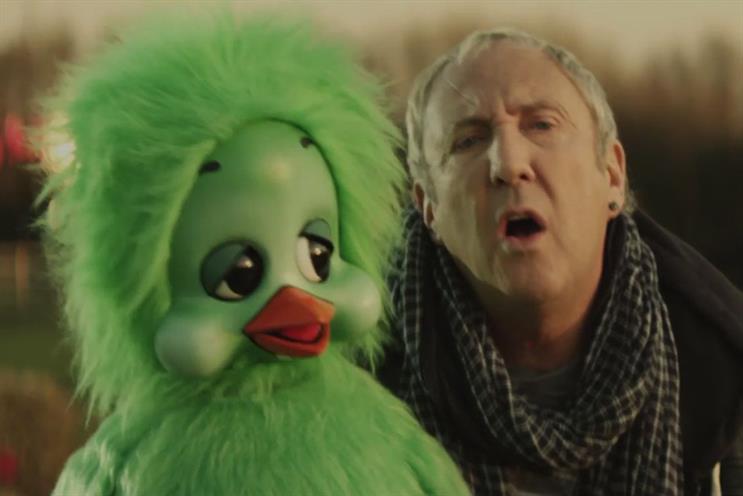 Score: 4
Last year: 7
Albion's tenth-anniversary year didn't prove to be an altogether joyous one. The departure of two of its key and defining accounts, Giffgaff and Air New Zealand, for which the agency has produced some memorable and witty advertising campaigns, put a rather large dampener on its celebrations.
In the case of the former, this was particularly sad given that earlier in the year it launched the excellent "unlock your phone" spot featuring Keith Harris and Orville doing a rap. By the end of the year, the ad made it on to the most-watched ads list on YouTube at number nine.
Air New Zealand, meanwhile, thought it would try its luck at one of the newer (dare we say trendier) independent start-ups – Joint.
The wins on the opposite side of the ledger didn't prove to be entirely satisfying – in fact, the majority of them (such as Brainient, TransferWise and Vizeum) seemed to be in the PR and social space at its start-up subsidiary, Albion Drive.
Albion's advertising wins included Unibet and Made.com, while it extended its relationship with Wonga.com to roll out the brand globally. Of all its clients, Wonga.com is possibly the most visible to the public and doesn't do justice to the full breadth of the agency's capabilities, which also includes Albion Cell, a specialist in eCRM and data.
However, there was the odd creative triumph – its powerful "perfect match" radio spot for the cancer charity Anthony Nolan won a gold Lion at Cannes and a gold at the Campaign Big Awards. This campaign, the aforementioned GiffGaff and consistently solid work for Jose Cuervo constitute the rather slim highlights package from the creative department.
Elsewhere, new joiners included Creature Seattle's Hemant Anant Jain as a creative director and Saatchi & Saatchi's Uma Mantravadi as a planning director.
So, all in all, it was a slightly damp squib of a year that its super-competitive leader Jason Goodman will be keen to improve upon in 2013.
Albion
Type of agency
Creative
Company ownership
Independent
Key personnel
Jason Goodman chief executive
Nick Darken executive creative director
Glyn Britton managing partner, strategy
Matt Roskill managing director
Nielsen billings 2012
£24m
Nielsen billings 2011
£19m
Declared income
£6.3m
Total accounts at year end
24
Accounts won
12 (biggest: Unibet)
Accounts lost
2 (biggest: Giffgaff)
Number of staff
65 (-4%)
Score key: 9 Outstanding 8 Excellent 7 Good 6 Satisfactory 5 Adequate 4 Below average 3 Poor 2 A year to forget 1 Survival in question
How Albion rates itself: 6
"We celebrated ten years with some of our best creative: our film 'CONtract feat. K-Orville' for giffgaff was a YouTube UK Top 10; our campaign for Anthony Nolan won Cannes and BIG awards. We invested in new services, building our product design team (who created TU:Me for Telefonica Digital) and launched PR & Social agency Albion Drive. After four years and serious commercial return, Air New Zealand and giffgaff moved on – we wish them well."