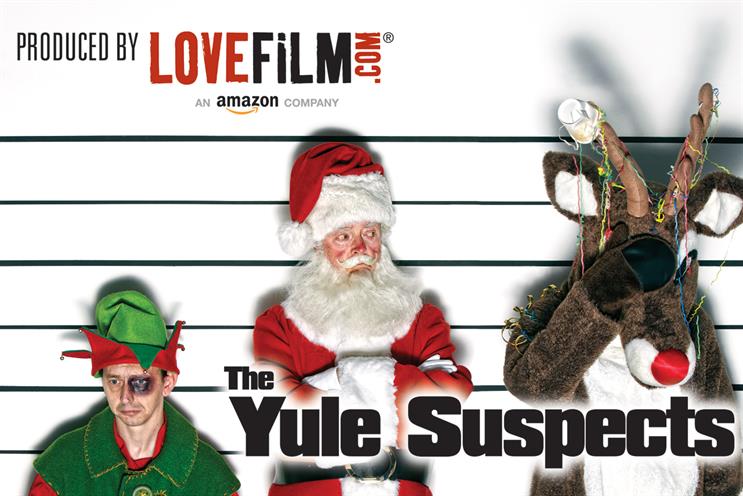 Score: 5
Last year: 6
If you were looking to invent a modern agency, the shape you'd choose would perhaps be much like that of MBA. Integrated, with capability across most media, the agency has proved adept at direct marketing, brand advertising and communications via new channels.
While this is all in MBA's favour and to its credit after so long in business, it did not fully capitalise on this during 2012. After strong growth in 2011, it had a quiet time last year – rarely troubling the major pitchlists and creating work that was effective yet low-profile.
MBA's most high-profile advertising work was for LoveFilm, for which it created campaigns such as December's "yule suspects" activity. Other output included a continuing campaign for Everest featuring its spokesman, Craig Doyle. Everest, along with the hotel group Accor and the Brazil-based aerospace company Embraer, remained one of the agency's top-spending clients.
MBA started 2012 with a solid project win in the shape of Sky Bet, for which it created some Euro 2012-related work. Bookending its year was a significant win in the shape of the online trading brand Easy-forex, but its other account captures were lesser in stature. These were balanced by the loss of the Huffington Post ad business, which the agency resigned ahead of a pitch, and the National Trust account.
The agency seems stable and well-managed. Its headcount might have remained flat following rapid growth the previous year, but the chief executive, Stephen Maher, maintains a strong profile in the business through his IPA work, which included a trip to China last year, and this seems to be to the benefit of the shop.
MBA should be well-placed to capitalise on changes in client structures and the move towards greater integration. Its issue might, however, prove to be that better-resourced rivals are now equipped to compete. But if the agency keeps its senior team together and avoids large account losses, its strength in working with emerging brands and those from the internet economy should stand it in good stead.
MBA
Type of agency
Integrated
Company ownership
Independent
Key personnel
Stephen Maher chief executive
Graham Kerr chairman and executive creative director
James Devon planning director
James Middlehurst managing partner
Paul Munce managing partner
Nielsen billings 2012
£19m
Nielsen billings 2011
£15m
Declared income
£4.3m (2011)
Total accounts at year end
20
Accounts won
5 (biggest: Easy-forex)
Accounts lost
2 (biggest: National Trust)
Number of staff
43 (no change)
Score key: 9 Outstanding 8 Excellent 7 Good 6 Satisfactory 5 Adequate 4 Below average 3 Poor 2 A year to forget 1 Survival in question


How MBA rates itself: 7
"New work included a more emotive Everest campaign, a high kicking Jackie Chan global launch for Embraer, more award-winning Love Film Instant work, and the new #clubhouse for the Marketing Society. We also moved into bigger, swankier offices and were awarded the Best Companies to watch accolade and recognised in the Top 20 Private Plums."