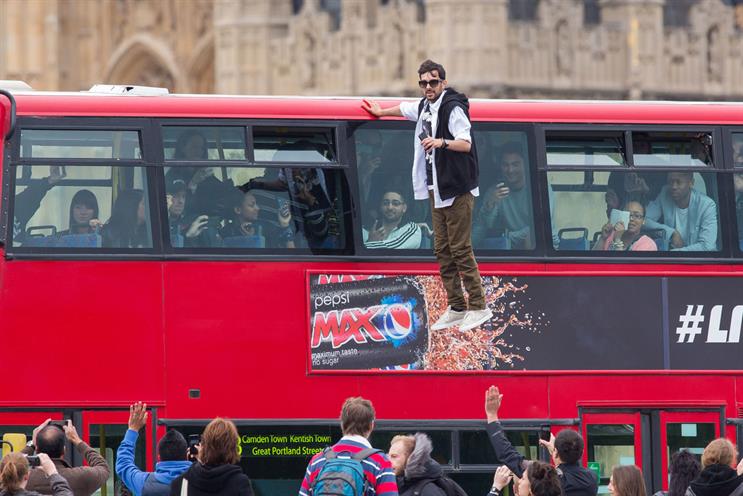 Score: 5
Last year: n/a
There's not much doubt about Arnold KLP's most talked-about piece of work in 2013 – or, indeed, about any work from an agency formed out of a merger between Arnold London and Euro RSCG KLP in September 2010.
At that time, the new operation pledged itself to delivering "idea-centric, media-neutral" creative work. And it can certainly be said to have delivered on its pledge last year with an extraordinary film for Pepsi Max that was the eighth most popular video ad of 2013 in Britain.
Industry commentators who watched the film – featuring the magician Dynamo appearing to "levitate" alongside a bus as it toured London – were no less gobsmacked than the tourists jostling to take pictures of the apparent gravity-defying stunt. One observer said the spot "approaches the kind of 'water-cooler' moment brands vie for".
For Pepsi, it provided not only 2.4 million paid media video plays but also a strong platform for its future use of social media. For Arnold KLP, it has turned out to be a significant marker.
The "bus levitation" spot was probably the most high-profile activity in what was a busy and productive year for the agency that saw the influx of a diverse range of new talent.
Most notable was the arrival of the former St Luke's and Euro RSCG creative director Colin Lamberton from Arnold Amsterdam to take creative command.
Some strong work for Volvo and Jack Daniel's was complemented by two familiar names that joined the client roster. One was Douwe Egberts, the Dutch coffee brand, which picked the agency to handle its £4 million UK integrated account after a protracted pitch. The other was Tesco, which selected the shop to work alongside its lead creative agency, Wieden & Kennedy, to help transform its in-store communications.
Arnold KLP's challenge now is to build on the potential it has begun to show.

How Arnold KLP rates itself: 7
Arnold KLP's year in a Tweet: Campaign highlights on Pepsi Max Dynamo and Jack Daniel's. Wins on Tesco and Douwe Egberts. Awards for Britvic. Fresh talent and new ECD.
Arnold KLP
Type of agency
Integrated
Company ownership
Havas
Key personnel
Phil Bourne chief executive
Hugh Treacy managing director
Martin Smith head of planning
Colin Lamberton executive creative director
Declared income
n/s
Total accounts at year end
13
Accounts won
5 (biggest: Tesco)
Accounts lost
0
Number of staff
60 (+8%)
Score key: 9 Outstanding 8 Excellent 7 Good 6 Satisfactory 5 Adequate 4 Below average 3 Poor 2 A year to forget 1 Survival in question
Footnote: *indicates where agencies claim the corporate governance constraints of the Sarbanes-Oxley legislation.