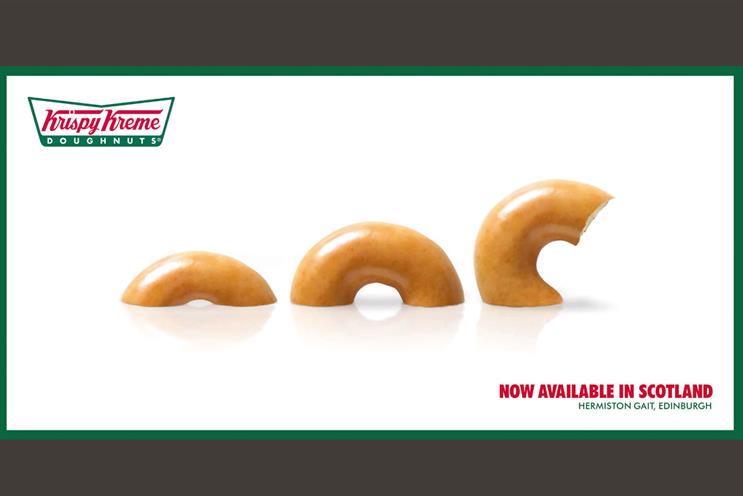 Score: 5
Last year: n/a
This is Bray Leino's first time in Campaign's School Reports and it coincides with a reboot at the shop. Bray Leino, which has its headquarters in Devon but also offices in Bristol and London, began 2013 with a management restructure in an attempt to make the agency a challenger to rivals in the capital. Being an out-of-towner comes with few advantages in this industry.
Bruce Hutton, the chief executive, left to start a brewery and the agency made its group finance director, Giles Lee, the executive chairman.
The executive creative director, Jon Elsom, a former creative director at DLKW Lowe who joined Bray Leino in 2012, has a fine eye for print work, as evidenced by the campaign for Krispy Kreme in Scotland, which was shortlisted at the Campaign Big Awards.
Its biggest campaign was for Brittany Ferries. The TV spot had more charm than a typical ferry ad and contained a solid idea about staying curious and travelling the world. Brittany Ferries is one of Bray Leino's three largest-spending accounts, along with BP/Castrol and Legal & General.
A TV ad for Ibuleve, released in September, went some way to undoing Bray Leino's previous good work, launching a catchphrase ("I do believe he needs Ibuleve") that was never likely to spread like Specsavers' slogan.
The agency had a good year of new business and a not-too-disastrous one in terms of losses. Aviva's £1.5 million account was the biggest to go after Bray Leino resigned it.
First among the wins was a place on both the digital and direct marketing and planning rosters for the Government Procurement Service (now Crown Commercial Service). This soon translated into a piece of business in the form of an apprenticeships brief. Bray Leino will also be heartened by its inclusion on pitches for TSB and Scottish Power. Even though it did not win, just being counted among the established players is a good start.
How Bray Leino rates itself: 6
Bray Leino's year in a Tweet: A new Board drove success in 2013. 3 CCS roster appointments, numerous pitch wins, raising the creative bar across our integrated offering
Bray Leino
Type of agency
Full-service creative communications
Company ownership
The Mission Marketing Group
Key personnel
Giles Lee executive chairman
Alistair Bryan chief executive
Kate Cox chief executive
Jon Elsom executive creative director
Lisa Killbourn chief strategy officer
Nielsen billings 2013
£41m
Nielsen billings 2012
£36m
Declared income
£20m (2012)
Total accounts at year end
37
Accounts won
17 (biggest: Spectrum)
Accounts lost
5 (biggest: Aviva – resigned)
Number of staff
362 (-15%)
Score key: 9 Outstanding 8 Excellent 7 Good 6 Satisfactory 5 Adequate 4 Below average 3 Poor 2 A year to forget 1 Survival in question
Footnote: *indicates where agencies claim the corporate governance constraints of the Sarbanes-Oxley legislation.