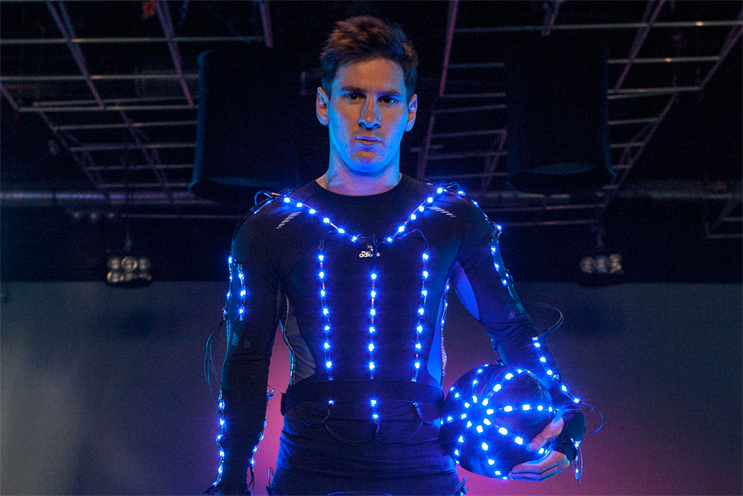 Score: 6
Last year: 8
The footballer Lionel Messi starred in last year's most high-profile creative work by Iris when he donned a neon suit for Adidas. And it's fair to say that the agency continued moving the ball nicely during 2013 while scoring a few goals to boot. Not only did it vacuum up 21 new accounts, but it also extended its portfolio via new assignments from names such as Domino's Pizza, Diageo and the healthcare company Nicoventures.
There were some creative hits too: the Messi Ballon D'Or film gained 3.5 million hits in four days, while the tactical "beef" ad for Mini reached 21 countries, generating a claimed £2 million in free media.
The only significant blot on the landscape was the scaling down of its relationship with Sony – the then Sony Ericsson was a founding client 14 years previously – when it decided not to repitch for Sony Mobile's UK account. However, Iris still works with the brand in other markets.
The agency showed during 2013 that it was gearing up to meet the increasingly diverse and global demands of clients. In the UK, this manifested itself in some important hirings as well as the acquisition of Datalytics, the data and CRM company, for around £3 million. This was seen as a declaration of intent to invest in insight and analysis to boost Concise, the agency's consulting, CRM and technology arm.
At the same time, growth plans were underpinned by a flurry of new arrivals towards the end of the year. Chris Baylis, a Cannes Grand Prix winner, joined from Tribal DDB London to take charge of Iris' 60-strong creative department. Meanwhile, Sam Noble was appointed as the agency's first chief strategy officer, with a brief to bring together all aspects of strategy, planning and insight from across the network.
With some big signings and a strengthened offering, Iris can certainly face the year ahead with confidence.
How Iris rates itself: 8
Iris' year in a Tweet: Bigger ideas, more competitive clients, more ambitious people and in the best shape we could be to take on 2014.
Iris
Type of agency
Integrated creative
Company ownership
Meredith (minority stake)
Key personnel
Ian Millner founder and joint global
chief executive
Sam Noble founder and chief strategy officer
David Saxby chief executive, London
Shaun McIlrath global creative director
Chris Baylis executive creative director, London
Nielsen billings 2013
£41m
Nielsen billings 2012
£25m
Declared income
£51.7m
Total accounts at year end
45
Accounts won
21 (biggest: Nicoventures)
Accounts lost
2 (biggest: Sony Mobile UK)
Number of staff
400 (no change)
Score key: 9 Outstanding 8 Excellent 7 Good 6 Satisfactory 5 Adequate 4 Below average 3 Poor 2 A year to forget 1 Survival in question
Footnote: *indicates where agencies claim the corporate governance constraints of the Sarbanes-Oxley legislation.