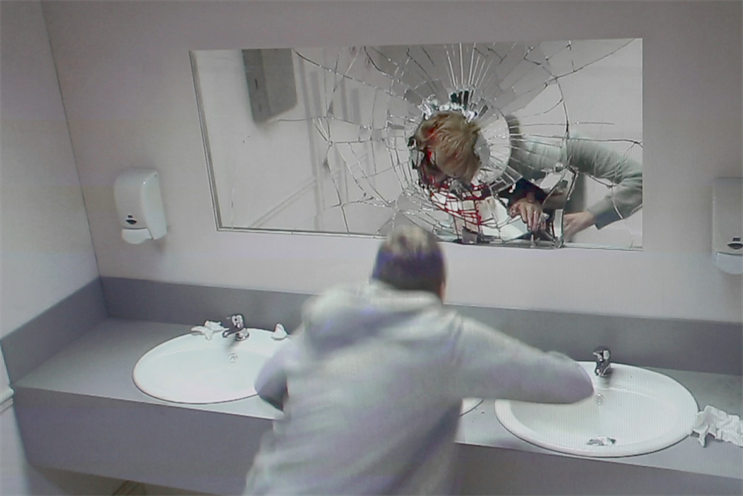 Score: 7
Last year: 8
It was rather sad that Leo Burnett's most-talked-about work in 2013 proved to be a swansong for an account for which it has done more than any to achieve positive societal change.
Its final ad for the Department for Transport was "#publooshocker". In what looks like a ridiculous decision, Leo Burnett was later removed from the Government's creative roster.
Despite this setback, the agency continued to produce decent work – most notably for McDonald's, for which it made 60 TV ads in 2013. A campaign for the online tutor group The Tutor Crowd, which grammar-checked graffiti, picked up a silver at the Campaign Big Awards, and there were also gongs at D&AD, the Clio Awards and the One Show.
Leo Burnett created a "world first" that subverted the "skip ad" button for the charity Business in the Community. In the online film, which shows a former offender applying for a job through the eyes of an employer, viewers can click on a dummy "skip ad" button – but, each time it is pressed, the applicant becomes more dejected.
Last year also saw the unveiling of the agency's first work for Coca-Cola, "share a Coke", and its first push across the UK and Europe for Vitaminwater.
Throughout the year, Leo Burnett, Arc and Airlock (the digital arm, Holler, has its own school report this year) won 17 accounts between them, the biggest being Pfizer. The group picked up the creative accounts for Coca-Cola and Procter & Gamble's Vidal Sassoon and Clairol, alongside experiential activity for LVMH, Cadbury, TalkTalk, Foster's, the MS Society and Blinkbox.
All in all, a strong year. More appearances competing for the bigger briefs would raise Leo Burnett's game further this year.
How Leo Burnett rates itself: 7
Leo Burnett's year in a Tweet: A glut of creative awards across our client base, 10m YouTube hits for #PubLooShocker + 17 new bits of business makes Burnett happy campers
Leo Burnett
Type of agency
Integrated
Company ownership
Publicis Groupe
Key personnel
Andrew Edwards chairman and group
chief executive
Paul Lawson chief executive, Leo Burnett London and
deputy chief executive, Leo Burnett Group
Giles Hedger group MD and chief strategy officer
Justin Tindall group executive creative director
Sarah Baumann group talent strategy director and
general manager, Atelier UK
Nielsen billings 2013
£204m
Nielsen billings 2012
£177m
Declared income
£49.4m (2012, excluding Holler)
Total accounts at year end
32
Accounts won
17 (biggest: Pfizer)
Accounts lost
0
Number of staff
357 (+4.2%, excluding Holler)
Score key: 9 Outstanding 8 Excellent 7 Good 6 Satisfactory 5 Adequate 4 Below average 3 Poor 2 A year to forget 1 Survival in question
Footnote: *indicates where agencies claim the corporate governance constraints of the Sarbanes-Oxley legislation.