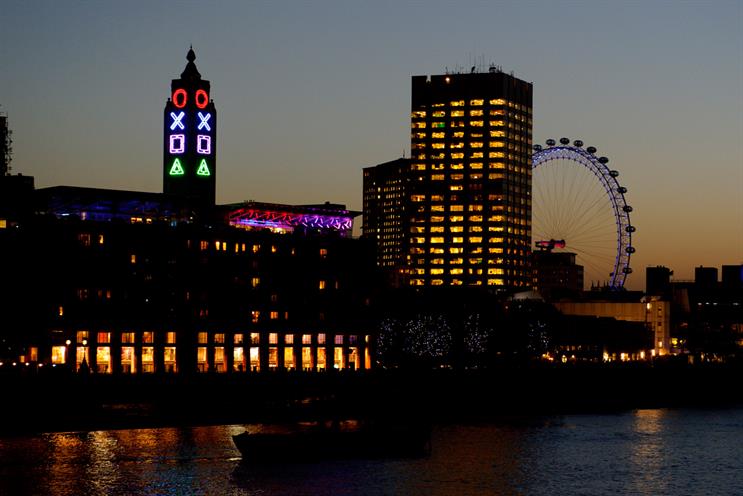 Score: 8
Last year: 7
The greatest buzz came from Manning Gottlieb OMD, which is now, remarkably, responsible for the bulk of OMD Group's billings and pulled in a bumper new-business win from the new bank TSB. It had been an understated shop, led by the equally understated Robert Ffitch, but his promotion from managing director to chief executive finally pushed the agency into the spotlight. It won a Creative Effectiveness gold at Cannes for its work with John Lewis, and took over the Oxo Tower for the first time in the landmark's history to launch the PlayStation4. Interesting, smaller wins came through its blossoming Beyond division, which works with start-ups to grow the agency's next big clients.
The sister agency OMD UK won £60 million of new billings, nearly 39 per cent of the group's total, and swiped the utility company SSE's media business. It helped the global OMD network retain Carlsberg and Hasbro, though Sony Electronics and GE were lost in other global pitches. In his second year in charge, Dan Clays was busy regenerating the agency with hires such as Hamid Habib and Rian Shah, who once worked together at Zenith and joined OMD UK as managing partners of strategy. It remains a work in progress, though.
But OMD Group's agency to watch could be the fast-growing M2M, which has moved beyond its boutique roots and looks set to keep on doing so, with sizable wins such as HTC and Lidl, and more innovative work for Paddy Power (see the "right behind gay footballers" campaign). 2013 brought a 20 per cent headcount increase and a 30 per cent rise in billings, and the ambitious shop was shortlisted for both Campaign and MediaWeek's Agency of the Year award, and shortlisted for a Media Lion at Cannes for the first time. A good year all round.
How OMD Group rates itself: 9
OMD Group's year in a Tweet: Exciting, award-winning, stand-out, agency of the year, new business, new talent, creative ideas, innovative, future-facing.
OMD Group
Type of agency
Media and marketing
Company ownership
Omnicom Media Group
Key personnel
Philippa Brown chief executive,
Omnicom Media Group, UK
Robert Ffitch chief executive, Manning Gottlieb OMD
Dan Clays managing director, OMD UK
Alistair MacCallum managing director, M2M
Nielsen billings 2013
£865m
Nielsen billings 2012
£806m
Declared income
£68.9m (2012)
Total accounts at year end
158
Accounts won
30 (biggest: SSE)
Accounts lost
8 (biggest: Sony Electronics)
Traditional
91%
Digital
9%
Number of staff
558 (+6%)
Score key: 9 Outstanding 8 Excellent 7 Good 6 Satisfactory 5 Adequate 4 Below average 3 Poor 2 A year to forget 1 Survival in question
Footnote: *indicates where agencies claim the corporate governance constraints of the Sarbanes-Oxley legislation.