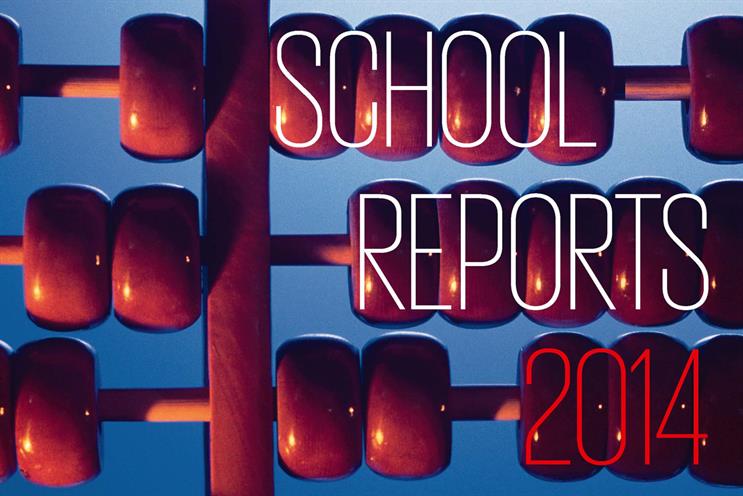 Let me explain the process. We pick what we see as the 100 (or so) most interesting agencies in the UK and score them on the calendar year just gone. The list includes creative agencies, media shops, customer engagement specialists and digital consultancies – as much as these categories still apply.
In the spirit of a school report, emphasis goes on the quality of the work produced over the past year (although, admittedly, lateness and adherence to uniform are largely overlooked). Other indicators are net business gained, stability and quality of leadership and that slightly less tangible – but critically important – positive momentum that the best creative businesses have.
Yes, the overall judgments are subjective. They are also highly reductionist. But they are reached after applying objective criteria and after what is often a heated debate among Campaign's editorial team.
As such, the School Reports provide the best overview of the most accomplished agencies that this country has to offer. After a flurry of start-ups in recent years, the wheat is starting to become more easily separated from the chaff. Notably, Creature, Joint and Gravity Road have all enjoyed a vibrant 12 months, while Goodstuff Communications' success in the media world has already been acknowledged.
Lucky Generals, meanwhile, is so new that it doesn't yet warrant a full-year score, but has nevertheless shown great promise.
A substantial number of agencies this time have achieved mid-ranking scores, perhaps reflecting the difficult environment that has engulfed this business for the past five years. Just keeping an agency operating and profitable has been a feat in itself in these days of dwindling client and staff loyalty.
So, hats off to those that have scored seven or above. With the nature of Britain's oversupplied and fiercely competitive environment, these are signs of truly world-beating businesses.
Danny Rogers, former editor-in-chief, Campaign
How the Top 100 is compiled
The compilation of the Top 100 tables is an ongoing process. Three months before publication, agencies on Nielsen's database were asked to update their billings and give details of account moves (note that updating billings/account move data does not in itself guarantee inclusion). Reference to 2012 rankings is based on what is known now, so can differ from printed results last year. This is either as a result of agencies that were late in updating their data last year or because of other changes, such as mergers or agencies that have ceased trading.
The media measured in all tables in the report are television, display press, radio, cinema and outdoor (which does not include airports, ambient, international sites or point of sale). For the fourth year, we now also include online display advertising spend. Direct marketing such as direct mail is not included, hence the low billings for most of the direct marketing agencies featured. Agency client assignments are compiled by Nielsen from data supplied by agencies and media owners on a regular basis, alongside information published in the marketing press. The figures are estimated costs of buying media space based on a number of factors, including ratecard, discounts and viewing figures. Data does not include actual billings or agency revenues. Press expenditures include an Advertising Association discount factor, which varies according to the sector and quarter.
Not surprisingly, agencies lobby hard to influence the way data is presented; the Top 100 tables, school reports and scores can affect everything from share prices to client perceptions to staff motivation.
But the objective representation of the dynamic agency market is crucial, so the tables are checked rigorously and analysed to ensure the data presented is a fair reflection of the information we are given.
In order for agency brands to be reported as a single listing within the table, the agencies need to have provided Nielsen with unequivocal proof that they are recognised as one legal entity, which is then checked at Companies House.
The Top 100 has been affected by the Sarbanes-Oxley Act in the US, which prohibits the public release of unaudited financial information. Sarbanes-Oxley has led agencies owned by public holding companies listed in the US, such as Omnicom, Interpublic and WPP, to withhold financial data, hence the absence of declared billings and some income data in the tables.
The School Reports are available in print as an iPad app. Download the Campaign iPad app on iTunes here.
To ensure receipt of a copy of the next questionnaire, e-mail: agencyranking2013@nielsen.com.