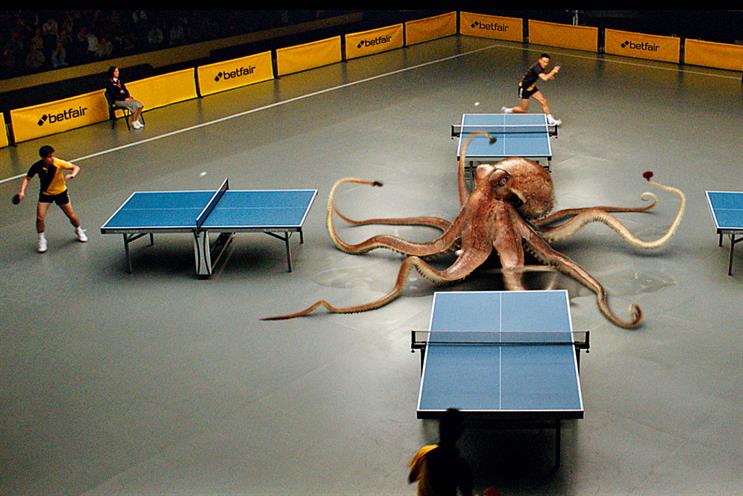 Score: 5
Last year: 4
Arena's transition from the agency founded by Booth Lockett Makin to one now embedded within Havas Media Group feels complete after a few shaky years. Its leadership, led by the chief executive, Pedro Avery, and the managing director, Henry Daglish, is carving out a distinct role within the group.
The new-look shop no longer harbours any ambitions to challenge its sibling Havas Media to be the group's flagship media agency. That battle, if it ever really existed, was put to bed the moment the decision was made to move Telefónica's O2 media business within the Havas Media network, despite Arena having been the agency pitching for it.
The focus now is on being a change agent for clients with modest annual marketing budgets of up to £20 million. Arena has moved away from trying to imitate the "Meaningful Brands" proposition of its larger sibling, preferring instead to focus on its digital expertise, especially in performance-led campaigns.
Arena has created a welcome differentiation and plays to the group's more streamlined structure, with the agency able to call upon specialist in-house operations at Cake, AIS London, Havas Sports & Entertainment and the data specialist DBi.
For all the positives, 2014 was not all plain sailing. Losing Kopparberg after seven years to Goodstuff Communications will have made the agency thirsty for another drinks client, while the exit of its creative director, Justin Gibbons, to Enter did not chime with the momentum narrative the agency has been keen to promote.
However, fears that the agency was going to be consumed after its move into Havas Media's offices in 2013 have been allayed. Good foundations have been laid, and more of the same is needed in 2015.
How the agency scores itself: 7
How the agency rates itself: Growth was our theme for 2014: we secured 12 new accounts, £18 million of business and delivered fantastic results for our key clients including Domino's Pizza (up 17 per cent in sales) and Betfair (up 14 per cent EBITDA). Working closely with the group allowed us to pitch for O2 – a transformational group win – and drive further digital, content and data services. We began 2015 by welcoming Graeme Douglas as the group chief strategy officer.
Arena
Type of agency
Full-service media planning/buying
Company ownership
Havas
Nielsen billings 2014
£73m
Nielsen billings 2013
£71m
Declared income
n/s*
Total accounts at year end
66
Accounts won
12 (biggest: Vapestick)
Accounts lost
1 (Kopparberg)
Traditional media
62%
Digital media
29%
Other media
9%
Number of staff
169 (+5%)
Key personnel
Pedro Avery chief executive
Henry Daglish managing director
Beatrice Boue managing partner
Ian Thomson managing partner
Catherine Schrier managing partner
Score key: 9 Outstanding 8 Excellent 7 Good 6 Satisfactory 5 Adequate 4 Below average 3 Poor 2 A year to forget 1 Survival in question
Footnote: *indicates where agencies claim the corporate governance constraints of the Sarbanes-Oxley legislation.