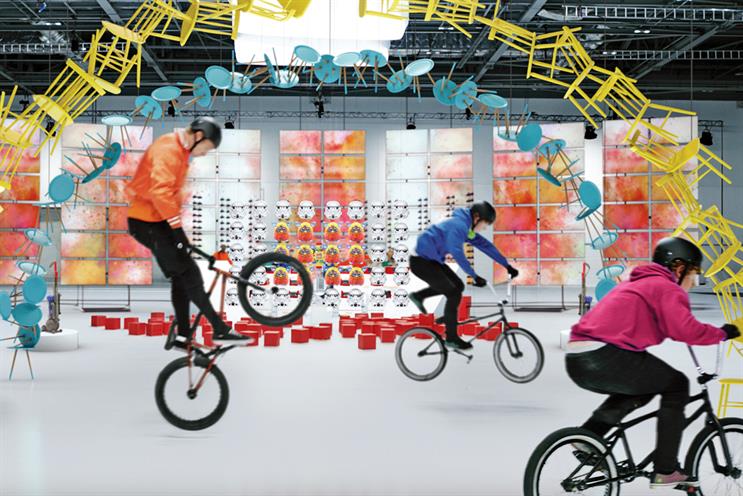 Score: 7
Last year: 7
CHI & Partners' 2014 can be summed up in one word: retentions. It must have been frustrating for all concerned that it was forced to exert so much energy in order to mostly stand still.
Despite the popular appeal of "aliens", CHI had to defend its key £55 million Argos account. In the end, the agency triumphed in a shoot-out against Now and then reinvented the retailer's image in a startling Christmas campaign, which stood out for its brave new strategy and for bucking the seasonal trend for sentimentality. Similarly, the £15 million Travelodge business, which CHI won in January 2014, went up for review at the end of the year, only to return to CHI in January 2015. The agency also had to defend its place on the Samsung roster, which it retained in February 2015.
CHI waved goodbye to the UK Burger King account when – after typical dallying from a brand that never seems to know what it's doing – the fast-food chain opted for a single global shop. More significantly, CHI declined to repitch when Anchor reviewed, spelling an end to an 11-year relationship that spawned some fine TV work.
But the odds against retaining businesses are massively stacked against the incumbent agency and it is to CHI's credit that it did so well in achieving this several times.
With all hands to the pump, there wasn't much chance to undergo any massive structural changes that seemed so prevalent elsewhere. But CHI's holding company, The & Partnership, expanded into content in 2014 – it hired Conor McNicholas, the former NME editor, to run the division, called AllTogetherNow.
CHI can be broadly satisfied with its 2014. But, if there was one thing that was missing, it was trips to the podium for its work.
How the agency scores itself: 7
How the agency rates itself: A very big year for us, 2014. We repitched, retained and relaunched Argos in fine style, won a flurry of awards for the Prince's Trust Tomorrow's Store, launched our content agency AllTogetherNow, helped cause a Twitter and PR storm for Prince Harry's Sentebale charity, won some more awards for TalkTalk and Lexus and Samsung and Findmypast, made our most successful X Factor campaign for TalkTalk, and launched the world's first curved-screen TV for Samsung.
CHI & Partners
Type of agency
Full service
Company ownership
Independent
Nielsen billings 2014
£187m
Nielsen billings 2013
£171m
Declared income
£36m
Total accounts at year end
25
Accounts won
6 (biggest: Telus)
Accounts lost
2 (biggest: Burger King)
Number of staff
293 (+6%)
Key personnel
Johnny Hornby founding partner
Sarah Golding chief executive
Nick Howarth chief executive
Jonathan Burley executive creative director
Neil Goodlad chief strategy officer
Score key: 9 Outstanding 8 Excellent 7 Good 6 Satisfactory 5 Adequate 4 Below average 3 Poor 2 A year to forget 1 Survival in question
Footnote: *indicates where agencies claim the corporate governance constraints of the Sarbanes-Oxley legislation.