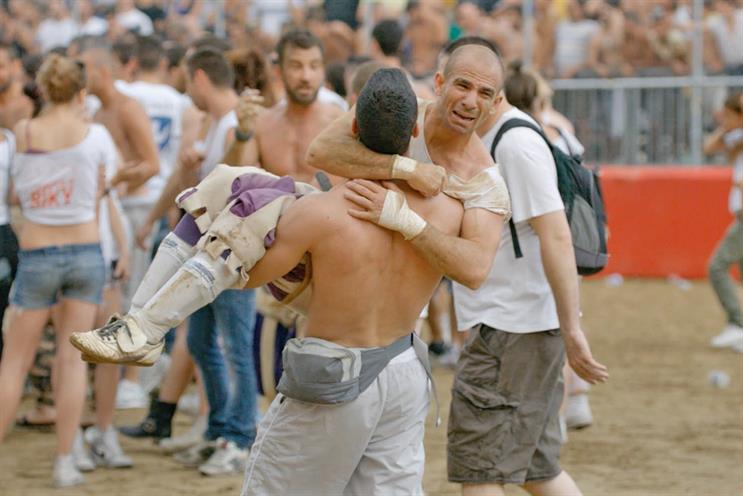 Score: 7
Last year: 7
J Walter Thompson turned 150 in December 2014. To mark the occasion, the agency reverted to its original name, dropping the JWT moniker it adopted nine years ago.
The change was interpreted as a sign of the shop's self-assuredness – that it had stopped worrying what trendier shops were doing to focus on helping global brands market themselves more effectively.
Funny, then, that this was also a year when JWT ran a tactical ad that – by one metric – became the most successful commercial message in Twitter's history.
Amid the scandal about the new model iPhone and its tendency to bend, JWT created a message for Kit Kat with the line: "We don't bend, we #break." It was retweeted more than 28,000 times, surpassing the next most-Tweeted ad – for Oreo during the Super Bowl in 2013 – by about 12,000 mentions.
It was further evidence of the creative chief Russell Ramsey leading the agency out of its staid past, and there was more to come: the worthy "coffee vs gangs" campaign for Kenco and the excellent "come and see" ads for Canon, for instance.
More than that, JWT believes people overlook how often it acts as a global hub for clients. European and global accounts for Shell and Bayer, and new ones from Tata Group and Qatar Airways, sitting happily alongside domestic clients does point to a depth that is uncommon in London.
There were no big account losses in 2014. Hovis moved to Mother, but that was because Premier Foods sold the brand.
One loss that would have been felt was that of Tracey Follows, the partner and chief strategy officer. It is said that Follows resigned because she was frustrated by the agency's lack of dynamism. Perhaps there are remnants of fustiness that still need to be chased out of the building.
How the agency scores itself: 8
How the agency rates itself: In 2014, we made some very exciting and distinctive work such as Canon's "come and see" campaign, Kenco's "coffee vs gangs" and First Direct's "little frill". Our Kit Kat "#bendgate" Tweet became the most retweeted ad of all time. We built a floodlit pitch powered by footsteps and a poster made of 13,360 cakes. We won seven new brands including Qatar Airways and Tata. And we ended the year with the celebration of 150 incredible years.
J Walter Thompson London
Type of agency
Integrated creative
Company ownership
WPP
Nielsen billings 2014
£126m
Nielsen billings 2013
£146m
Declared income
£52.5m
Total accounts at year end
34
Accounts won
7 (biggest: Qatar Airways)
Accounts lost
0
Number of staff
436 (-1%)
Key personnel
Joseph Petyan executive partner
James Whitehead executive partner
Russell Ramsey executive partner and executive creative director
Score key: 9 Outstanding 8 Excellent 7 Good 6 Satisfactory 5 Adequate 4 Below average 3 Poor 2 A year to forget 1 Survival in question
Footnote: *indicates where agencies claim the corporate governance constraints of the Sarbanes-Oxley legislation.