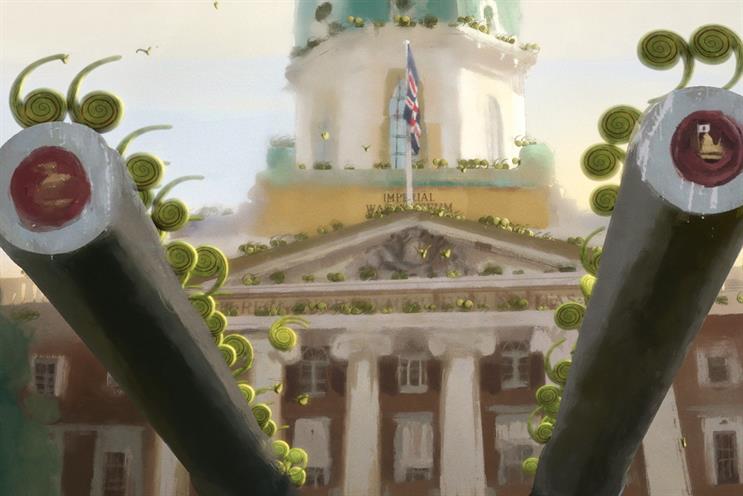 Score: 4
Last year: 4
Well, first, the good news. Johnny Fearless was responsible for one of the most beautiful and poignant ads (both in film and radio) last year with the astonishing "flight of the stories" for the Imperial War Museums. It quite rightly won an Aerial Award and will hopefully continue to trouble juries in 2015. It may have been a long time coming but, as a way of defining what Johnny Fearless offers creatively and as a statement of intent, it was unmistakable and real credit is due to all involved.
And, now, the less good news. In 2014, the agency just stood still – again. Where was the new-business momentum and corresponding excitement that the IWM campaign should have engendered? Surely the shop isn't content producing the occasional beautiful spot for a charity (it's unlikely to help pay the bills) alongside its humdrum Buildbase, Plumbase, Hirebase and Electricbase clients? Meanwhile, staff numbers fell by almost a quarter.
While we're sure that there isn't a lack of ambition at Johnny Fearless, there does seem to be a problem in converting new-business opportunities – something that we hope will be remedied in 2015.
After all, now that the agency has a story to tell with the IWM – and a pretty impressive one at that, given its size and the amount of work that went into making the campaign – it can't afford to waste another opportunity.
To sit and let 2015 pass the agency by like it seems to have done in recent years would be nothing short of negligent. While Johnny Fearless has finally laid down a marker, it needs to make the most of it before time runs out. Otherwise, it will never fill the potential that we saw a tantalising – if brief – glimpse of in 2014.
How the agency scores itself: 6
How the agency rates itself: We hit a creative high with our acclaimed "flight of the stories" film to mark the centenary of the First World War for the Imperial War Museums. We also bolstered our team and expanded our offering by bringing in new talent and expertise in social, while incremental growth from our existing client base contributed towards a year of steady growth in 2014.
Johnny Fearless
Type of agency
Advertising
Company ownership
Independent
Declared income
n/s
Total accounts at year end
13
Accounts won
0
Accounts lost
0
Number of staff
20 (-23%)
Key personnel
Paul Domenet executive creative director and founding partner
Neil Hughston founding partner
Anne-Fay Townsend planning partner
Jane Bellard head of social
Tabitha Burrell finance director
Score key: 9 Outstanding 8 Excellent 7 Good 6 Satisfactory 5 Adequate 4 Below average 3 Poor 2 A year to forget 1 Survival in question
Footnote: *indicates where agencies claim the corporate governance constraints of the Sarbanes-Oxley legislation.