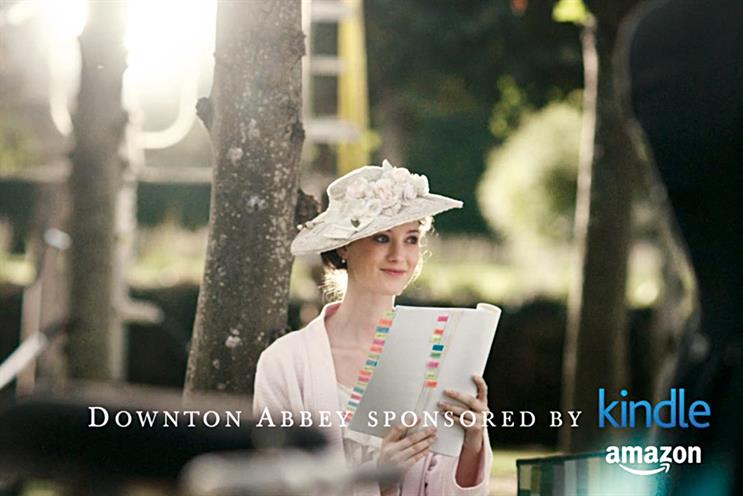 Score: 7
Last year: 8
It's typical of Richard Exon's chutzpah that he would describe Joint's 2014 as "outstanding". But we're not going to let him get away with that. Well, not entirely.
Sure, there were lots of positives. A particular bright spot was winning a place on the Amazon UK roster, working alongside Lucky Generals (with whom it shares many attributes). Joint's most high-profile work to date was the creation of a series of nice-enough idents for the sponsorship of Downton Abbey.
The agency also gained a place on the UKTV roster and picked up a small but interesting creative opportunity in the form of the Badger ale business. But out the door went Air New Zealand, an early client, and BHS (which Sir Philip Green sold in March 2015). One of Joint's founders, Nik Upton, also departed.
In reality, the low-profile Upton never really seemed to have made his mark and his loss should not necessarily be seen as a negative – hopefully, the tighter management team of Exon, Damon Collins and Lori Meakin can now focus on winning more business and making more noise. But, to naysayers, it did seem to suggest an acknowledgement that the starting line-up had not worked.
Comparisons between Joint and Adam & Eve are frequently made but ultimately futile – while both were spawned from Rainey Kelly Campbell Roalfe/Y&R, Joint opened its doors with a massive client in the form of TSB. In relaunching this brand, plus preparing it for an initial public offering in 2014, the shop didn't really have to chase every new-business opportunity out there – it can afford to be more choosy.
With TSB – which Lloyds Banking Group is now selling to Spain's Banco Sabadell – well and truly bedded in and any problems with the management team now resolved, a little more progress in 2015 would be welcome. Outstandingly welcome, in fact.
How the agency scores itself: 9
How the agency rates itself: We enjoyed a 100 per cent pitch record; UKTV, Amazon and Badger ales. We hired more brilliant people from all sorts of interesting places. We picked up our first Promax nomination for digital innovation and also our first major effectiveness trophy. We had our first go at working on an IPO (TSB's) and we created its first TV advertising for 25 years. We loved every minute of 2014. Which is the whole point, of course. Hence, outstanding.
Joint
Type of agency
Creative
Company ownership
Independent
Nielsen billings 2014
£27m
Nielsen billings 2013
£11m
Declared income
n/s
Total accounts at year end
7
Accounts won
3 (biggest: Amazon)
Accounts lost
2 (biggest: BHS – resigned)
Number of staff
32 (+55%)
Key personnel
Damon Collins founder
Richard Exon founder
Lori Meakin founder
Score key: 9 Outstanding 8 Excellent 7 Good 6 Satisfactory 5 Adequate 4 Below average 3 Poor 2 A year to forget 1 Survival in question
Footnote: *indicates where agencies claim the corporate governance constraints of the Sarbanes-Oxley legislation.