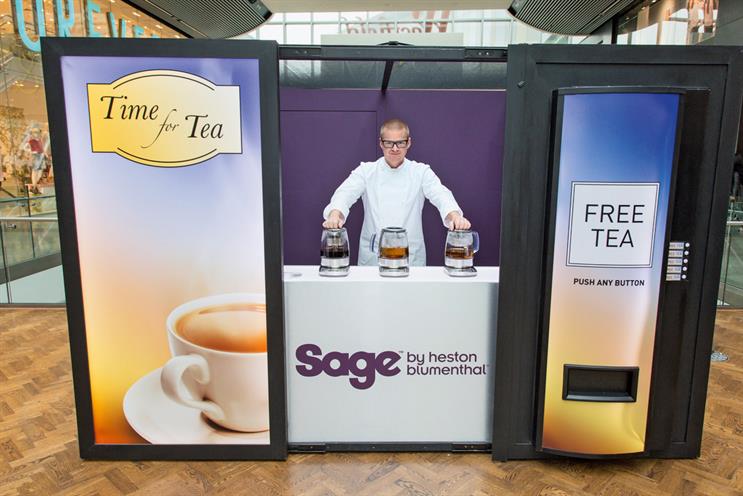 Score: 6
Last year: 6
MBA thinks of itself as a place where digital and direct come together, and prides itself on harnessing technology to make marketing more targeted and measurable. So what was it doing concealing Heston Blumenthal inside a fake tea-vending machine at the Westfield shopping centre last year? The two things are not unconnected, and using the celebrity chef to spring a surprise on an unsuspecting public proved a neat way of generating social media buzz around the Sage Tea Maker Blumenthal was promoting.
The stunt symbolises MBA's philosophy of aligning technology with dynamic content to make marketing messages more interesting to consumers – and it seems to be serving it rather well.
Indeed, it is an offering that proved seductive to an eclectic mix of new clients during 2014. Neilson, the active holidays brand, appointed MBA to grow its business with targeted digital and direct work. Another new arrival was Nicola Horlick's online crowdfunding business, Money&Co, which tasked the agency with devising a new digital and direct marketing strategy.
Feelunique.com, the online beauty retailer, chose MBA to create digital and direct marketing campaigns for the autumn/winter 2014 season. Meanwhile, the shop was the beneficiary of an eleventh-hour glitch, grabbing Odeon's Premiere Club CRM assignment when it seemed destined for Lida. The UK charity Guide Dogs was the only significant departure, trotting off to Rapp.
It all amounts to a year in which client additions bear out MBA's way of doing things. It may not be spectacular but the agency's steady and calculating approach is clearly building client confidence.
The year also saw MBA selected by the government to promote UK creativity overseas as part of the creative industries initiative. It certainly seems to have the right brand of diplomacy.
How the agency scores itself: 7
How the agency rates itself: We claimed seven new clients including Neilson, Feelunique and Money&Co. New work included "#TalkTeawithHeston" for Sage By Heston; a Dropple game and social travelog campaign for Avios; a social/TV campaign for Everest with Ronnie the robot; and an Oculus Rift first for Neilson. Awards included an IPA Effectiveness silver and IPA CPD gold. We were selected by the government to promote UK creative industries overseas and chaired the IPA Adaptathon.
MBA
Type of agency
Digital/direct
Company ownership
Independent
Nielsen billings 2014
£11m
Nielsen billings 2013
£12m
Declared income
£5m
Total accounts at year end
24
Accounts won
7 (biggest: Neilson)
Accounts lost
2 (biggest: Guide Dogs)
Number of staff
60 (+9%)
Key personnel
Stephen Maher chief executive
Graham Kerr chairman and executive creative director
James Devon planning director
James Middlehurst managing partner
Paul Munce managing partner
Score key: 9 Outstanding 8 Excellent 7 Good 6 Satisfactory 5 Adequate 4 Below average 3 Poor 2 A year to forget 1 Survival in question
Footnote: *indicates where agencies claim the corporate governance constraints of the Sarbanes-Oxley legislation.