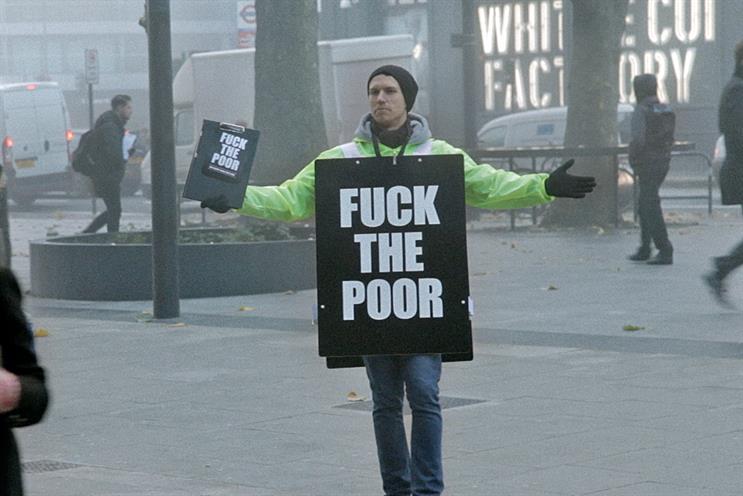 Score: 5
Last year: 5
As an establishment agency with a client list to match, Publicis London isn't the kind of place you would expect to send a man with a sandwich board bearing the slogan "fuck the poor" on to London's streets to see what happened. Maybe one of those eager young wannabe hotshops wanting to make a splash without clients or money – but Publicis?
Time was when the Baker Street elite would have been contemptuous of such vulgarity. Not so today, when the ability to come up with unconventional and edgy creative solutions may be needed to attract clients with much deeper pockets than the Pilion Trust charity, for which Publicis created the sandwich-board man and his incendiary message. It attracted a million online views in 24 hours.
Today, Publicis seems intent on presenting a much broader base of work than the memorable mass-market campaigns on which its reputation was built but which rarely figured at awards nights.
And it seems to be working. The agency was ranked fifth in the list of the UK's most successful agencies at the 2014 Cannes Lions. Its haul included four silvers for the Pilion Trust, which went on to strike gold at the Clio Awards in October.
Currently, the creative output is a bit hit-and-miss with highly decorated work for the Pilion Trust and The Depaul Box Company offset by a TV campaign for Jacob's, featuring a miniature baker, which made Campaign's Top 10 Turkeys of 2014.
The new-business record was equally mixed. The agency failed to convert the £55 million Argos pitch while DLKW Lowe beat it to the British Heart Foundation. Summer was sweet, though, when Publicis picked up the global assignment for Ferrero Rocher chocolates.
Clearly, the agency has a very long way to go – but at least it is headed in the right direction.
How the agency scores itself: 7
How the agency rates itself: Big hires in Guy Wieynk, the group chief executive, and Dylan Williams, the global chief strategy and innovation officer. Big creative success – among the top five UK agencies at Cannes. Big innovation: launched Publicis Drugstore. Achieved our biggest global win in ten years with Cadillac and landed Ferrero Rocher, Canada Goose and HBO. Created impactful work for Dacia, Garnier and Confused.com. Baker Street return emphasises the collective power of the Publicis UK offer.
Publicis London
Type of agency
Creative
Company ownership
Publicis Groupe
Nielsen billings 2014
£191m
Nielsen billings 2013
£219m
Declared income
£32m
Total accounts at year end
66
Accounts won
6 (biggest: Ferrero Rocher)
Accounts lost
0
Number of staff
270 (-8%)
Key personnel
Karen Buchanan chief executive
Andy Bird executive creative director
Will Arnold-Baker joint managing director
Neil Quick joint managing director
Score key: 9 Outstanding 8 Excellent 7 Good 6 Satisfactory 5 Adequate 4 Below average 3 Poor 2 A year to forget 1 Survival in question
Footnote: *indicates where agencies claim the corporate governance constraints of the Sarbanes-Oxley legislation.