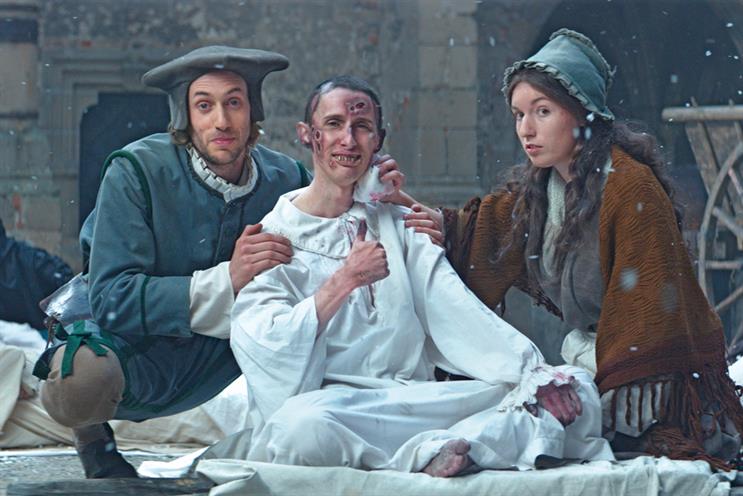 Score: 7
Last year: 9
Anyone wondering whether VCCP's meerkats campaign for Comparethemarket.com had run its course got their answer at Christmas. An ad waving goodbye to the brand's newest character, baby Oleg, prompted news articles, anguished Tweets and even a few heartfelt letters from distraught viewers.
Few could doubt now that VCCP has created the most successful soap-style campaign since the "will they/won't they" Nescafé ads or the Oxo family. The other creative highlight in 2014 was the debut work for Royal London. The ad lent broad-based humour, in the style of Maid Marian And Her Merry Men, to a dry financial services client to great success.
The agency did well to expand its role with clients such as Hiscox, Kia and McLaren, but its new-business record didn't compare favourably with the previous year's, and losing the AA to Adam & Eve/DDB was a blot in its copybook. That said, VCCP still managed to top AAR's report on new business for the fourth year on the trot, in terms of total wins and opportunities, so you could hardly accuse the agency of sleepwalking through 2014.
The shop also had its focus diverted by the new ventures Studio Ex Nihilo and VCCP Saint Pancras. The first is a maker studio; the latter is a luxury-brand-focused agency with offices in London and Paris. The business claimed its first account win, Chelsea Barracks, shortly after opening.
Meanwhile, Rob Bartlett, a business partner at OgilvyOne, was brought on board to run O2 after Dudley Desborough left the agency to become the fledgling Dawson Pickering's managing director.
Last year wasn't a barnstormer. After setting the bar high in 2013, VCCP did not manage to better the industry's other elite agencies in pitches as often as it would have liked. Redressing that issue should be a priority in 2015.
How the agency scores itself: 8
How the agency rates itself:
We introduced the world to Royal London, continued to encourage the nation to "be more dog" and said a tearful goodbye to Comparethemarket's baby Oleg. We welcomed 26 new clients. It was also a big year of continued investment into VCCP's full-service offering – particularly in the areas of media, social, content and data analytics. Thank you to all of our staff and clients.
VCCP
Type of agency
Full service
Company ownership
Chime Communications
Nielsen billings 2014
£223m
Nielsen billings 2013
£190m
Declared income
£89.3m (2013)
Total accounts at year end
109
Accounts won
26 (biggest: Kia)
Accounts lost
4 (biggest: AA)
Number of staff
630 (+5%)
Key personnel
Adrian Coleman founding partner
Charles Vallance founding partner
Michael Sugden chief executive
Darren Bailes executive creative director
Michael Lee executive planning director
Score key: 9 Outstanding 8 Excellent 7 Good 6 Satisfactory 5 Adequate 4 Below average 3 Poor 2 A year to forget 1 Survival in question
Footnote: *indicates where agencies claim the corporate governance constraints of the Sarbanes-Oxley legislation.