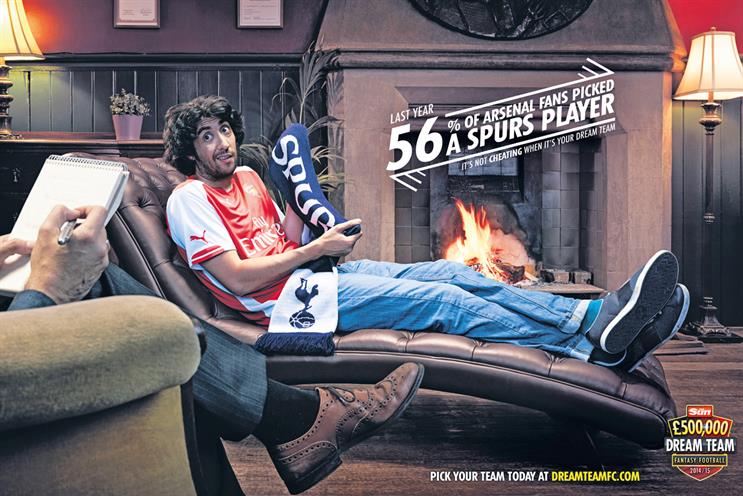 Score: 6
Last year: 8
In 2014, Wunderman delivered on a number of levels. It improved its creative product, won a decent spread of new clients, revenues reached "around the £41 million mark" and profits were three times what they were two years ago.
After picking up News UK from its WPP rival OgilvyOne, Wunderman delivered strong work for the publisher. A campaign for The Sun's Dream Team fantasy football game played on the fact that people feel guilty about choosing players from rival teams and received four golds at the DMA Awards. Another highlight was "have you CHECT?" for its new client the Childhood Eye Cancer Trust. The campaign promoted how smartphones are saving children's eyesight through a poster that turned white when someone takes a flash photo of it.
In addition, Wunderman picked up work from GlaxoSmithKline and Virgin Media Business, the latter at the expense of TBWA and Rapp. There are also new brands on the roster (as well as business from existing clients) that are, we are told, confidential. The buzz around the new clients was negated, however, by the loss of the global Microsoft business, which moved to McCann.
Last year also saw Wunderman set up a content studio led by Matt Redman. The division was part of a wider restructure of the agency to focus on digital transformation, integrated brand and campaign marketing, CRM loyalty and customer engagement, and content marketing.
Many interested third parties were surprised when, in early 2015, Mel Edwards, the chief executive, was promoted to chief executive of Wunderman EMEA, as they saw the UK shop as a work in progress. As the School Reports went to press, she had hired Chris Perry to replace her. It seems WPP is very happy with the agency's direction so far, even if its rivals think the jury is out.
How the agency scores itself: 8
How the agency rates itself: 2014 saw what 18 months of hard work can do. Our management team ensured we took to an open culture like ducks to water. Our new-business machine was as energetic as ever, with eight new accounts hopping on board. And we even launched a dedicated newsroom. Creatively, we had a blast, launching The Sun Dream Team and CHECT's "have you CHECT?". And we reaped the rewards of our creative gumption with our biggest awards tally for years.
Wunderman
Type of agency
Direct and digital
Company ownership
WPP
Nielsen billings 2014
£10m
Nielsen billings 2013
£29m
Declared income
n/s*
Total accounts at year end
22
Accounts won
8 (biggest: News UK)
Accounts lost
1 (Microsoft)
Number of staff
348 (no change)
Key personnel
Mel Edwards chief executive
Richard Dunn chief strategy officer
Matt Batten chief creative officer
Josette James client services director
Shorful Islam managing partner, data and insights
Score key: 9 Outstanding 8 Excellent 7 Good 6 Satisfactory 5 Adequate 4 Below average 3 Poor 2 A year to forget 1 Survival in question
Footnote: *indicates where agencies claim the corporate governance constraints of the Sarbanes-Oxley legislation.