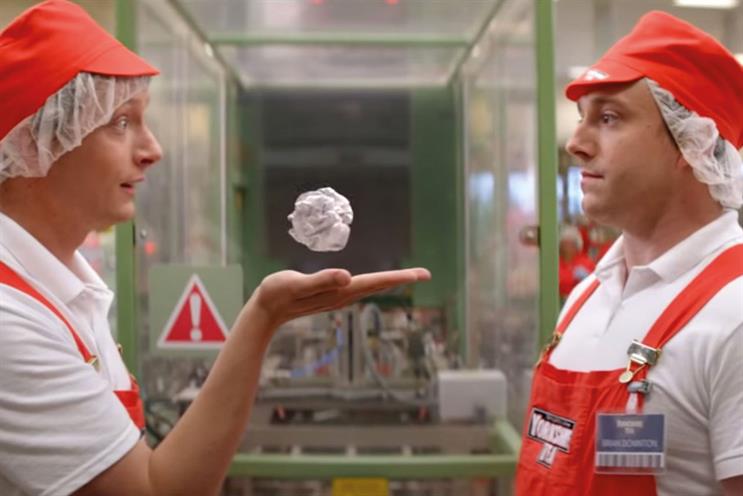 BMB's year had begun on a positive note as the agency picked up Rubicon's £3 million UK account in January and subsequently released a quirky summer campaign, which AG Barr hoped would help double sales of the brand. Alas, wet weather and hysteria around sugar consumption put paid to that dream, and the company's sales fell in the six months to July.
The agency must have felt like it had won the pools when it was awarded Paddy Power's £20 million ad account after a four-month pitch process – but dreams turned to nightmares when, after only three months, the business was moved to Lucky Generals following a change of chief marketing officer at the bookmaker.
Other than that, BMB, which had brought in Juliet Haygarth the previous year as its first chief executive, spent most of 2015 flying under the radar. The agency's most notable work was a one-off ad campaign for McCoy's, called "go bold", that featured a plumber singing an Ella Henderson song and a campaign for Yorkshire Tea that introduced viewers to the land of "Brewtopia".
Early 2016 brought more unwelcome news for BMB as Yorkshire Tea's owner, Taylors of Harrogate, called a review, forcing the agency to repitch for an account it has held for eight years.
But, behind the scenes, BMB has been quietly going about its business, retaining a large chunk of the 29 accounts currently on its books. While 2015 was not quite a year to forget, it may be one that the agency struggles to remember with particular fondness.
---
How the agency rates itself:
5

"For all of its bright spots, we won't be shedding any tears for the passing of 2015. On the upside, we won new great clients such as Rubicon and Rowse, invited tea-lovers to "Brewtopia" for Yorkshire Tea, orchestrated an alien autopsy for Space Raiders and did our bit for lonely older people at Christmas with Solo Cracker. The lowlights, including Paddy Power falling at the first fence, kept us focused on a happier 2016."
BMB
Type of agency
Advertising
Company ownership
Majority owned by Cheil Worldwide
Nielsen billings 2015
£46m
Nielsen billings 2014
£59m
Declared income
£8.2m
Total accounts at year end
29
Accounts won
6 (biggest: Paddy Power)
Accounts lost
3 (biggest: Paddy Power)
Number of staff
64 (-9%)
Key personnel
Trevor Beattie, founding partner
Bil Bungay, founding partner
David Bain, partner
Juliet Haygarth, chief executive
Matt Waller, executive creative director
Score key: 9 Outstanding 8 Excellent 7 Good 6 Satisfactory 5 Adequate 4 Below average 3 Poor 2 A year to forget 1 Survival in question
Footnote: *indicates where agencies claim the corporate governance constraints of the Sarbanes-Oxley legislation.