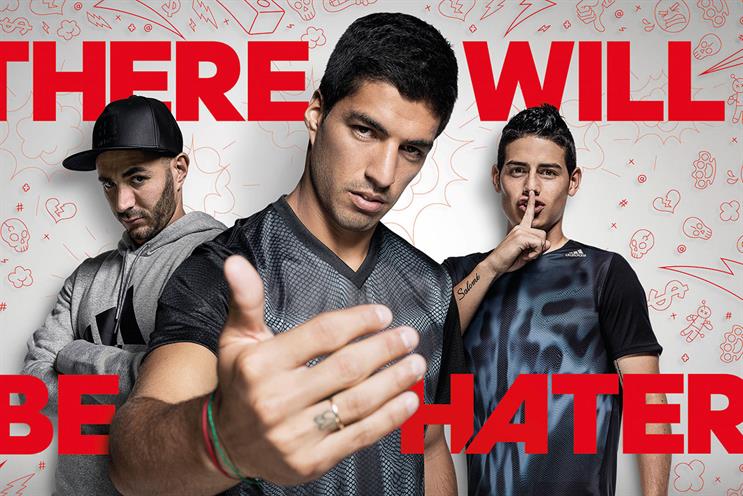 Iris' 2015 started strongly. The shop picked up Wickes' £24 million creative account on the same day that it launched one of Adidas' most successful brand campaigns.
Wickes plumped for Iris ahead of McCann, VCCP and the long-time incumbent, MWO (now Transform London). The nature documentary-inspired spot that followed in March featured a woman helping her partner, dubbed "the British bodger", by going to Wickes to pick up paint and tips. Iris claims the ad drove record-breaking bank holiday sales. A couple more wins like Wickes would help Iris prove it can hold its own beyond its integrated heartland.
Adidas "#ThereWillBeHaters" featured top-flight footballers such as Luis Suárez and Gareth Bale revelling in fan abuse. Iris created a spot with as much bling as a footballer's house. The campaign picked up gold in the Integrated and Film categories at the Campaign Big Awards and the shop was named Integrated Agency of the Year. Other work highlights included letting people name their pizzas for Domino's, a move that drove £3.6 million in incremental revenue.
Further wins included the creative account for the retailer Maplin and the global CRM business for PZ Cusssons. Virgin Active hired Iris as its lead creative agency, leading to a cheeky ad campaign in early 2016, and the shop picked up the communications account for the Britvic brands Purdey's and Fruit Shoot. Less welcome was losing The Football Association (although Iris insists that the loss "did not have an impact") and having to defend Mini.
It seems that being part of Cheil is working out for Iris.
---
How the agency rates itself: 8
"We have always known that participation helps brands to win against their competitors, and now we have proved it. "#ThereWillBeHaters" saw Adidas launch its most successful boot, we generated £3.6 million extra revenue for Domino's and Mini has announced the UK as its biggest sales market. 2015 has seen us achieve our highest billings and pitch-conversion rate since we started. And winning Campaign Big's Integrated Agency of the Year was the icing on the cake."
Iris
Type of agency
Integrated creative
Company ownership
Cheil Worldwide
Nielsen billings 2015
£42m
Nielsen billings 2014
£25m
Declared income
n/s
Total accounts at year end
63
Accounts won
6 (biggest: Wickes)
Accounts lost
1 (The Football Association)
Number of staff
405 (+7%)
Key personnel
Steve Bell, co-founder and European chief executive
Dan Saxby, chief executive, London
Sam Noble, co-founder and chief strategy officer
Shaun McIlrath, chief creative officer
Claire Humphris, co-founder and managing partner
Score key: 9 Outstanding 8 Excellent 7 Good 6 Satisfactory 5 Adequate 4 Below average 3 Poor 2 A year to forget 1 Survival in question
Footnote: *indicates where agencies claim the corporate governance constraints of the Sarbanes-Oxley legislation.