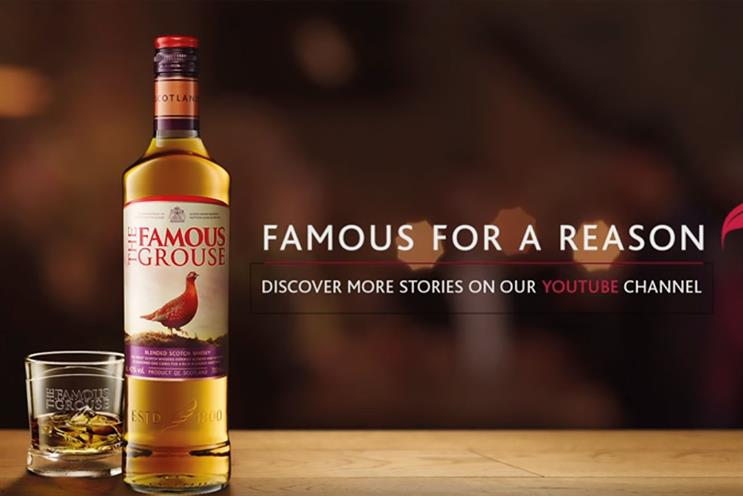 When it said goodbye to its long-serving creative director Gerry Farrell in June 2014, Leith claimed to be changing structure. Instead of having a creative overlord, the shop would empower the people actually working on the accounts. It's an interesting plan but not one that has ever proved successful for an agency in the long term.
In September 2015, the Edinburgh-based shop plumped for promoting Troy Farnworth and Phil Evans to jointly run the department as creative directors. Whether Leith really intended to dispense with having an overarching creative or was just stalling, it was not the only agency to go back on such a pronouncement in 2015. M&C Saatchi did much the same.
Speaking of which, Leith's biggest win in 2015 was from M&C Saatchi. The Royal Bank of Scotland made the move in November as it sought to differentiate the main Scottish retail account from NatWest south of the border. Leith also picked up The Famous Grouse after a conflict forced Abbott Mead Vickers BBDO to resign the business.
The final major win, Scottish Power, must have been sweet for the Newhaven contingent at Leith – the defunct agency was forced to merge with Leith in 2013 shortly after losing the energy supplier's business to Fallon. The majority of Leith's losses were the end of PR projects at Stripe.
So a smattering of decent new-business wins and clarity on the agency's creative structure, combined with awards for 2014 Irn-Bru work around the Glasgow Commonwealth Games, helped Leith end the year on a high. London agencies might have to start taking notice.
---
How the agency rates itself: 7
"Going places. We snatched the global Famous Grouse account. Then pitched and won Scottish Power from Fallon and the Royal Bank of Scotland from M&C Saatchi. Irn-Bru's sponsorship of Glasgow 2014 was lauded across Europe and we picked up CIM Marketing Campaign of the Year for First Great Western. We've got new creative directors, a bunch of smart new people and fire in our bellies for where we take Leith next. Watch this space."
Leith
Type of agency
Integrated creative
Company ownership
Cello
Nielsen billings 2015
£10m
Nielsen billings 2014
£16m
Declared income
£11.7m
Total accounts at year end
135
Accounts won
17 (biggest: Royal Bank of Scotland)
Accounts lost
33 (biggest: 2014 Commonwealth Games)
Number of staff
179 (-7%)
Key personnel
Richard Marsham, group managing partner
Ed Brooke, head, Leith
Juliet Simpson, chairwoman, Stripe
Morna McLelland, managing director, Stripe
Pete Burns, head, Blonde Digital
Score key: 9 Outstanding 8 Excellent 7 Good 6 Satisfactory 5 Adequate 4 Below average 3 Poor 2 A year to forget 1 Survival in question
Footnote: *indicates where agencies claim the corporate governance constraints of the Sarbanes-Oxley legislation.