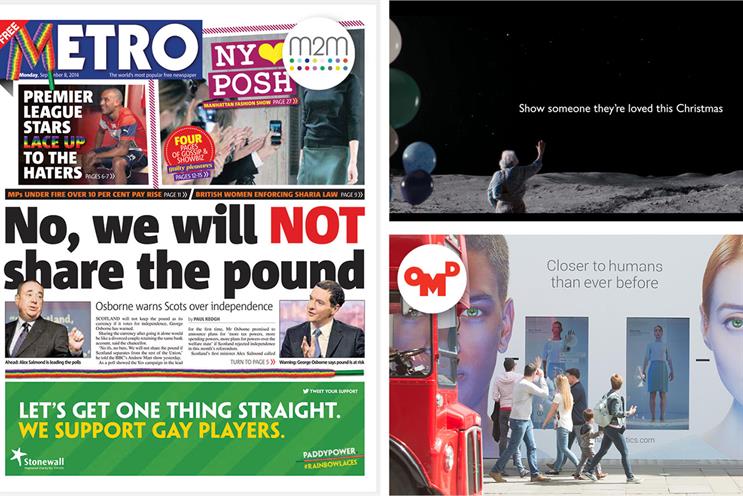 Making sense of OMD Group's performance is hard because it includes OMD UK, Manning Gottlieb OMD and M2M - three subsidiaries that generate close to £1 billion in billings among them.
For all these agencies, it felt like a good, rather than great, year. OMD did well with Channel 4 – its campaign for Humans swept the Media Week Awards – yet there was no standout new-business win and it resigned the valuable Coty account. MG OMD's golden run with John Lewis continued, but it declined to repitch for Virgin Atlantic after 22 years – only to see the business bounce around from Arena Media to its sister agency PHD. And M2M suffered a crushing blow when Lidl moved its £50 million-plus account (hopefully the success of Paddy Power's "rainbow laces" campaign at the Media Week Awards put smiles back on faces).
Big-spenders such as McDonald's and Virgin Media have provided a steady income, in addition to 22 accounts wins, which included a confidential £15 million piece of business.
OMD Group's federated structure means that the agencies can invest in their own identities. OMD UK launched an outreach programme for media owners and a scheme enabling staff to work in different parts of the agency. MG OMD was named Thinkbox's most-awarded agency of the past decade and pushed its entry-level MG Academy. M2M ran "inspiration sessions", launched its own newspaper and supported employees' passions.
All in all, it was a mixed year for the group but one with some good stuff to be proud of.
---
How the agency rates itself: 7
"OMD UK launched its new proposition and won 70 awards, including four golds, a silver, a bronze and the Grand Prix at the Media Week Awards. MG OMD delivered iconic campaigns including Bond and the John Lewis Christmas tear-jerker. Also won 46 awards including gold at the Media Week Awards. A new structure, vision and purpose helped M2M win seven accounts and numerous awards, including two golds and a silver at the Media Week Awards."
OMD Group
Type of agency
Media
Company ownership
Omnicom
Nielsen billings 2015
£938m
Nielsen billings 2014
£875m
Declared income
£88.1m (2014)
Total accounts at year end
150
Accounts won
22 (biggest: Bacardi)
Accounts lost
6 (biggest: Lidl)
Traditional media
60%
Digital media
40%
Number of staff
791 (+5%)
Women in senior management
MG OMD 47%; OMD 52%
BAME staff in senior management
MG OMD 5%; OMD 19%
Key personnel
Dan Clays, chief executive, OMD UK
Tim Pearson, chief executive, Manning Gottlieb OMD
Alistair MacCallum, chief executive, M2M
Philippa Brown, chief executive, Omnicom Media Group UK
Sam Phillips, chief marketing officer, Omnicom Media Group UK
Score key: 9 Outstanding 8 Excellent 7 Good 6 Satisfactory 5 Adequate 4 Below average 3 Poor 2 A year to forget 1 Survival in question
Footnote: *indicates where agencies claim the corporate governance constraints of the Sarbanes-Oxley legislation.