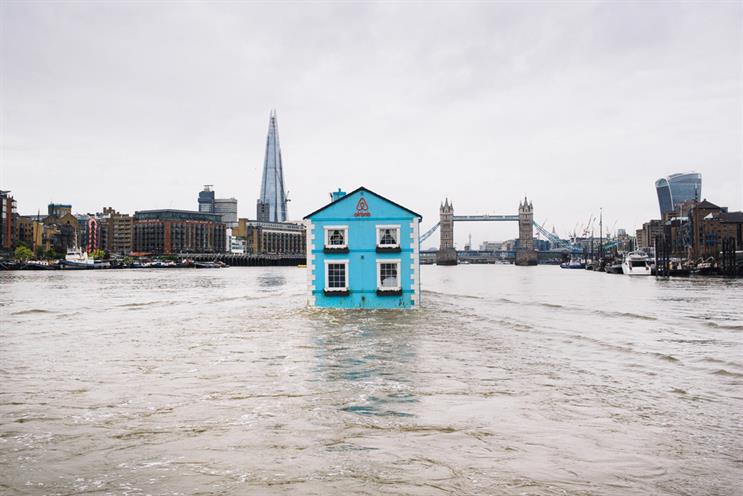 It's fitting that among the most interesting bits of work TBWA\London created in 2015 was a painted boathouse floating down the Thames. The agency has promised a makeover over the past couple of years but real change is still bobbing out of reach.
The boathouse was part of a campaign for the network client Airbnb and generated headlines for the brand around the world. It was a genuinely innovative way to answer a fairly standard brief and followed the success of "D Rose Jump Store" for Adidas, which won gold at Cannes in 2014.
The "Lidl surprises" work continues to perform for the supermarket. The Christmas campaign taught kids the skills they might need at that time of year, such as untangling lights. Lidl proved to the fastest-growing retailer over the seasonal period, with sales up 18.5 per cent year on year.
TBWA's chief executive, Richard Stainer, did make some tough decisions. One of those was the surprise choice of Graeme Douglas, the chief strategy officer at Havas Media Group, as its executive creative director in September. Douglas has yet to really make his mark – something like Honda's "the other side", for which he was the creative director, would be most welcome in 2016.
In October, TBWA said goodbye to Walter Campbell and Sean Doyle, who had been brought in as creative directors three years earlier, but not before they had created an X-rated Rankin-directed film for Coco de Mer.
New-business gains included the online casino Mr Green and the web-hosting company GoDaddy, which the network won globally in November. But there was less welcome news from Royal Caribbean International, which moved to Hometown London after just six months. It hardly needs to be said that the agency can't lose big wins so quickly if it wants to make a success of 2016.
---
How the agency rates itself: 5
"Last year started with one resolution. "Disrupt." True to our founding theory, we did just that. Disruption floated a house and built a cyborg of Chris Hoy. It bred award-winning, profit-spinning work for Lidl, Airbnb and Aquafresh. Disruption enticed Amelia Torode, Graeme Douglas and six new clients to join us. Disruption is only just getting going."
TBWA\London
Type of agency
Full-service advertising
Company ownership
Omnicom
Nielsen billings 2015
£178m**
Nielsen billings 2014
£147m**
Declared income
n/s*
Total accounts at year end
26
Accounts won
6 (biggest: Mr Green)
Accounts lost
2 (biggest: Royal Caribbean International)
Number of staff
159 (-7%)
Key personnel
Richard Stainer, chief executive
Amelia Torode, chief strategy officer
Graeme Douglas, executive creative director
Score key: 9 Outstanding 8 Excellent 7 Good 6 Satisfactory 5 Adequate 4 Below average 3 Poor 2 A year to forget 1 Survival in question
Footnote: *indicates where agencies claim the corporate governance constraints of the Sarbanes-Oxley legislation.