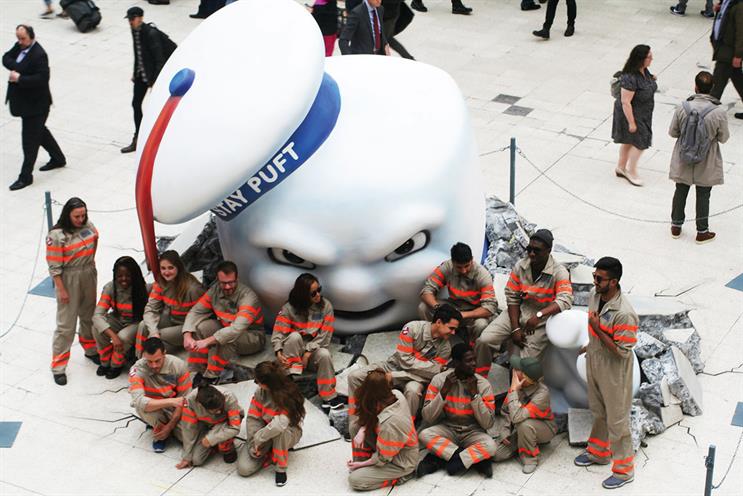 Score: 5
Last year: 6
---
How the agency rates itself:
7
OMD Group UK began 2016 as three agencies but M2M was shut in September, following a string of account losses, and that has significantly affected its score in this report. Manning Gottlieb OMD and OMD UK performed well, without setting the new-business tables on fire.
Highlights for MG OMD included "Buster the Boxer", John Lewis' most successful Christmas campaign yet, and Sony Pictures' Stay Puft Marshmallow Man exploding from the floor of Waterloo station. Tim Pearson, who took the helm in late 2015, proved a self-effacing but effective leader, championing print for Waitrose at Newsworks' Shift conference and moving the agency to a better office in Bankside.
Over at OMD, Dan Clays' team raised the bar with Channel 4's Paralympics work and programmatic outdoor for Google, and continued a strategy of openness by inviting media owners to its "Open House" events and hosting Innovation Week for clients and innovators. Launching an employee council, made up of OMDers from across the business, was a bold move.
However, M2M's closure cast a shadow. The 13-year-old agency had lost Estée Lauder, which had moved to MG OMD, and Paddy Power. "Retiring" the M2M brand was ruthless and led to redundancies. It had logic because Omnicom was opening Hearts & Science, yet some wonder if M2M had to die.
Other losses included TSB (£21m) for MG OMD and Weight Watchers (£10m) for OMD. OMD Group UK's total accounts fell from 150 in 2015 to 116 in 2016, although most of M2M's business stayed within Omnicom. Staff numbers dropped from 791 to 722 over the same period. The year ended with fears that OMD might lose Boots in a global realignment, which proved correct early in 2017.
---
How the agency describes its year in a tweet
Harnessing the energy of new leadership teams and existing strengths of the brand, we are on course for even stronger growth in the future.
---
Score key: 9 Outstanding 8 Excellent 7 Good 6 Satisfactory 5 Adequate 4 Below average 3 Poor 2 A year to forget 1 Survival in question