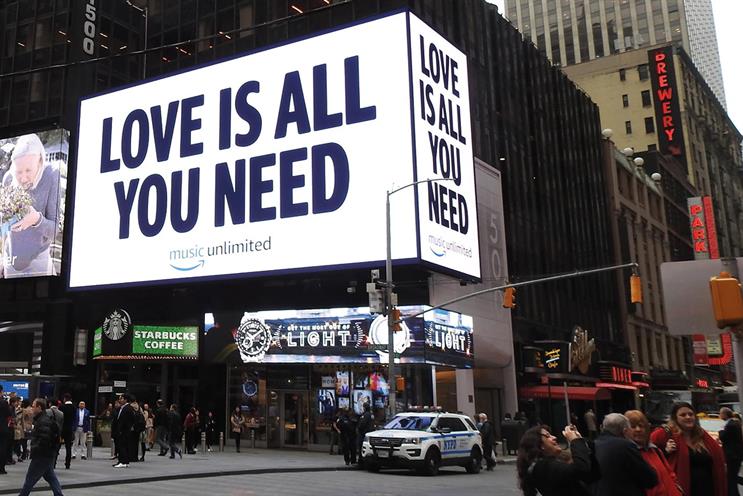 Type of agency & ownership:
Independent creative agency
Nielsen billings 2017:
£35m (-25%)
Declared income:
n/s
Total accounts at year end:
19
Accounts won:
3 (biggest: TripAdvisor)
Accounts lost:
1 (UKTV)
Number of staff:
49 (no change)
Key personnel:
Damon Collins, founder; Richard Exon, founder; Lori Meakin, founder
Star player:
Catarina Teixeira, finance assistant
With the death of the independents long forecast but never realised, agencies such as Joint, which celebrated its fifth birthday last year, are still happily doing their own thing.
The independent route will always be as risky as it is exciting, especially when, as in Joint's case, the mighty Amazon is such an important prop to the business. So, hats off to the agency for work that's not only given Amazon a human face (research released last year showed its "Priest and imam" spot to have been the most effective Christmas campaign of 2016), but provided Joint with a calling card that couldn't be bettered.
It is to be assumed that the "Amazon effect" won't have gone unnoticed at TripAdvisor, which hired the agency to create work for at least nine key international markets. Its stock is also clearly rising within Amazon which, last year, assigned Joint to the global launch of Amazon Music, its global music service, using poster sites in some of the world's biggest cities.
Not everybody is buying what Joint is selling, though. The agency lost out to Fold7 in the race for Rightmove's £8m creative account and to Grey London for Which?. Yet even making the shortlists for such business suggests an agency well able to hold its own at this level. Indeed, the £4m UKTV account went only after Joint had helped the company establish an in-house creative operation. Meanwhile, work on TSB continues apace, Vue has a wide range of briefs to be met and Kettle Chips is gearing up to launch a Europe-wide campaign through the agency.
Getting included in more big pitches – and winning them – will be the challenge for 2018.
| | | |
| --- | --- | --- |
| SCORE THIS YEAR | SCORE LAST YEAR | SELF RATING |
| 6 | 7 | 8 |
Agency's year in a tweet


As seen in New York, London, LA, Tel Aviv, Las Vegas, Copenhagen, Oslo, Stockholm, Miami, San Francisco, Hamburg, Berlin and Vienna.
Score key: 9 Outstanding 8 Excellent 7 Good 6 Satisfactory 5 Adequate 4 Below average 3 Poor 2 A year to forget 1 Survival in question
< PREVIOUS AGENCY | NEXT AGENCY >
*indicates where agencies claim the corporate governance constraints of the Sarbanes-Oxley legislation