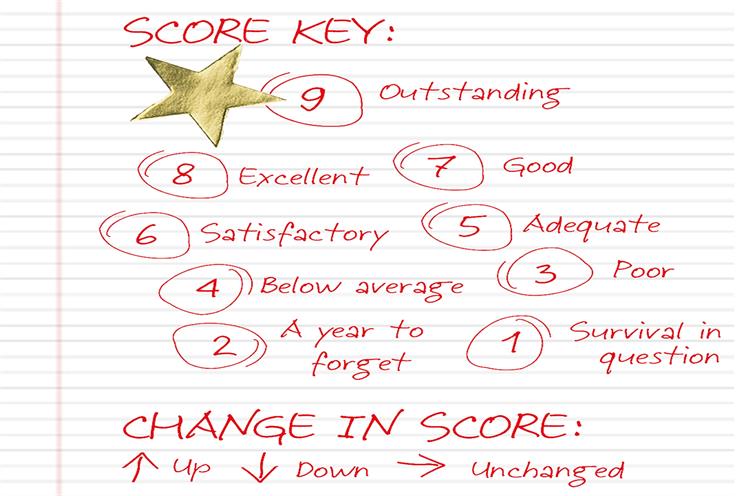 Campaign's School Reports are out, and while many agencies are still celebrating their success as proud recipients of a gold star, some are in need of extra tuition after a lacklustre year.
Although none of the 102 agencies Campaign analysed were marked a 1 ("survival in question"), five were marked a 2 or 3 ("a year to forget" or "poor" respectively).
Click through the agencies to read their full report cards, including wins and losses, billings information and comments from the headmistress (Campaign global editor-in-chief Claire Beale).
Mark: 2
2018 was undoubtedly challenging for the shop as it tried to reinvent itself as a creative consultancy, with the loss of 40% of its staff. Growing business pressures on independent agencies, along with the declining amount of business available to non-network shops, was forcing Brothers and Sisters to take a more pragmatic approach to acquisition, according to the agency's chief executive.
Mark: 2
As if having to slash a third of its staff wasn't enough, the agency found its creative leadership in limbo once again. In April, CP&B agreed to "mutually part ways" with chief creative officer Dan Watts, who spent just six months in the role. The search concluded at the year's end with the hiring of David Day, a D&AD yellow Pencil winner, whose work include Weetabix, Sky Bet, Three and Acer.
Mark: 3
With staffing levels cut by more than a quarter, a new-business record that was nothing to get excited about and its management team unsettled for an extensive period, BMB has the look of a place that desperately needs galvanising and its purpose redefined.
Mark: 3
It has been another mixed year for Carat amid leadership and client turbulence as Rick Hirst stepped down as UK chief executive in April and Stef Calcraft exited as UK and Ireland executive chairman of parent Dentsu Aegis Network in December. There was a worrying exodus of domestic clients, staff numbers plunged by more than 100 and Carat lost its spot as the UK's third-largest agency in the Nielsen rankings.
Mark: 3
After years of upheaval, TBWA\London started 2018 on a strong footing with a new management team: chief executive Sara Tate, chief creative officer Andy Jex and chief strategy officer Anna Vogt. Although it is still in a period of rebuilding, for the first time in a while there are reasons to be optimistic.
Find out how other agencies fared in the 2019 School Reports