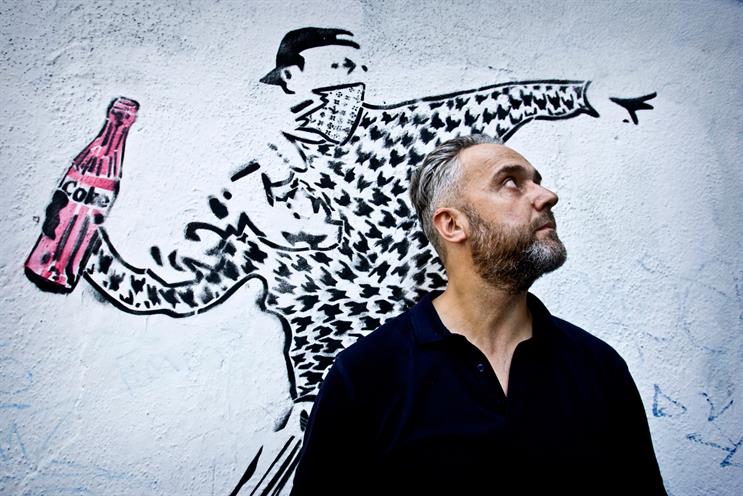 I've never really liked the ad business. That might sound a bit hypocritical from someone who has spent 30 years making a good living from the industry, but I'm not your stereotypical adman. I'm not particularly social – in fact, I'm socially awkward. I don't drink, or do drugs, or cheat on my wife, I think awards are bullshit and I'm most definitely not corporate.
I often wonder how the hell I've lasted so long. It's simple: I am an idealist. I joined advertising because I wanted to be creative. Sadly, over the past 30 years, I have watched what was once a creative business turn into nothing more than a functional money-making mach­ine where creativity is a commodity.
Creativity is vital: it's the key to solving any problem – and the creative mind, whether it specialises in design, strategy, technology or concepting, is an asset that should be nurtured and rewarded. We need a fresh influx of smart creative entrepreneurs who can give creative business a boost of energy and take it into its next chapter.
Room for improvement
The creative business is not good enough and needs to change. I'm not alone in thinking that, and I ask myself what is being done to instigate the change needed to get us out of the rut we are in.
In the past, we had visionaries who challenged the status quo. People such as John Hegarty, Alex Bogusky, Dave Trott, Steve Jobs and Arianna Huffington. And interesting ad agencies that fundamentally changed the creative landscape for the better, such as Boase Massimi Pollitt, Bartle Bogle Hegarty, GGT, Howell Henry Chaldecott Lury, St Luke's and Mother.
Who are the next creative visionaries, and where are the next truly mould-breaking ad agencies? There are three issues we need to address:
1. The talent pool is not diverse enough and not good enough. Rising tuition costs have created a huge barrier to future talent, especially those from outside of London and with low-income backgrounds, to gain access to the best creative training programmes. It goes without saying that diversity inspires creativity and that we, the UK, will only be seen as the creative capital of the world if we produce the best talent and inspire the best ideas in the future.
2. Not enough ambition, not enough innovation. Ad agencies have not really changed in 40 years. Most are uninspiring corporations that produce a formulaic product driven by the narcissistic creative awards business.
3. No visionaries, no missionaries. There are too few – if any – creative visionaries setting up businesses to make a difference, most preferring short-term finance vehicles rather than businesses that will create change and energy and be more interesting for staff, clients and the industry.
Gratis: free and inclusive
The idea came from a conversation I had with Donald Fogarty and Adam Oldfield from FutureRising and a great college tutor. We all agreed that, to make the industry better, we had to start with an education system that was inclusive and to remove the main barrier to access: cost.
I think creative businesses have a duty to be more involved in the education and creation of their future leaders, so the school will rely only on funding from government (hopefully), large corporations and a diverse selection of companies within the creative industry. That money will pay for accommodation in London that includes work space, 20 dorms and the services of the best creative tutor I know of. (I can't mention him for obvious reasons, because he is currently employed.)
The "working" course will be 18 months long, with two 14-day holidays (like real working people have and not the usual long breaks that students enjoy). It begins with a six-month boot camp followed by a blend of intense group workshops augmented with professional skills training with leading industry partners.
The building will host regular talks, seminars and workshops and have the ability to offer apprenticeships, industry training and bespoke events for the creative industries. Importantly, it will also offer an idea-generation and creative-support service to its partner companies, which will generate extra funds to put into a central kitty that will then be divvied up, so that students actually leave having earned some money.
That's the dream. Last week, the Skillset chief executive, Dinah Caine, invited me to The Creative Skillset presentation at Channel 4, where it was announced that there was to be £37 million-worth of funding to spend on education and creative internships. I was inspired and hugely excited to be in a room full of people who wanted to do something amazing and to make a difference to the creative industries, and suddenly that dream became a little more of a reality.
I had only one question: how could we get our dirty mitts on some of that money? We need one Transit van. Six people with balaclavas. I'll supply the guns. Who's up for it?

Dave Buonaguidi is a co-founder of Karmarama